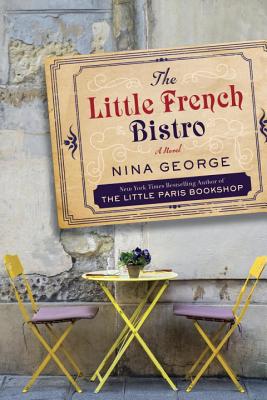 The Little French Bistro
A Novel
Hardcover

* Individual store prices may vary.
Other Editions of This Title:
Digital Audiobook (6/12/2017)
Paperback (3/6/2018)
CD-Audio (6/13/2017)
Paperback, Large Print (6/13/2017)
Description
NATIONAL BESTSELLER

From the New York Times and internationally bestselling author of The Little Paris Bookshop, an extraordinary novel about self-discovery and new beginnings.
 
Marianne is stuck in a loveless, unhappy marriage.  After forty-one years, she has reached her limit, and one evening in Paris she decides to take action. Following a dramatic moment on the banks of the Seine, Marianne leaves her life behind and sets out for the coast of Brittany, also known as "the end of the world." 
 
Here she meets a cast of colorful and unforgettable locals who surprise her with their warm welcome, and the natural ease they all seem to have, taking pleasure in life's small moments. And, as the parts of herself she had long forgotten return to her in this new world, Marianne learns it's never too late to begin the search for what life should have been all along.
 
With all the buoyant charm that made The Little Paris Bookshop a beloved bestseller, The Little French Bistro is a tale of second chances and a delightful embrace of the joys of life in France.
Praise For The Little French Bistro: A Novel…
Praise for The Little French Bistro:

"George beautifully evokes Brittany with its rocky shores, crustacean-rich waters and Celtic origins… It's no spoiler to say this novel offers a happy ending — and a satisfying one, as well." --The Washington Post

"...George stops time and again to savor Brittany's delicacies—from a Belon oyster washed down with a glass of Muscadet to a buttery kouign-amann cake; scallops with cider apples to cotriade, a local fish stew—embracing the true flavors of a land that 'shapes people…not the other way around.'"--New York Times Book Review

"[Nina] George's engrossing novel is as much about indulging the senses with succulent dishes and dazzling sights as it is about romance and second chances. With a profound sense of place and sensuous prose, the novel functions as a satisfying virtual visit to the French Riviera. A luscious and uplifting tale of personal redemption in the tradition of Eat, Pray, Love." --Kirkus Reviews

"George envelops the reader in the sights, sounds, and smells of the coastal town, heightening Marianne's new experiences with lush descriptions of Breton life. Fans of Elizabeth Gilbert and Isabel Allende will adore this courageous story of new beginnings, second chances, and the power of self-love." --Booklist

"The author of The Little Paris Bookshop has done it again. The message of this beguiling, second-chance romance—a rich life is possible at any age—will charm readers with its ring of truth." --Library Journal (starred)

"Charming...Nina George writes a love story that reminds you what it is to be young again." --San Francisco Book Review

"It's never too late to change your life. This is the resounding message in Nina George's charming new book The Little French Bistro. At a time when women are fighting to be heard, this heartfelt story is a reminder that female empowerment is a vital force to be reckoned with… What readers will take away is the enchanting vibe of a romantic French town in Brittany and the hope that comes when women own up to their potential." --Woodbury Magazine


Praise for The Little Paris Bookshop:
 
New York Times Bestseller
 
"If you're looking to be charmed right out of your own life for a few hours, sit down with this wise and winsome novel...Everything happens just as you want it to... from poignant moments to crystalline insights in exactly the right measure." --Oprah.com

"The settings are ideal for a summer-romance read...Who can resist floating on a barge through France surrounded by books, wine, love, and great conversation?" --Christian Science Monitor

"[A] bona fide international hit." --New York Times Book Review

"A story that reflects all the romance and sweetness of Paris itself." --San Francisco Book Review

"The Little Paris Bookshop is an enchantment...the next best thing to booking a trip to France." --Sarah Pekkanen, author of Catching Air
Crown, 9780451495587, 320pp.
Publication Date: June 13, 2017
About the Author
NINA GEORGE is the author of the bestselling international phenomenon The Little Paris Bookshop, as well as numerous other books that have been published around the world. She also works as a journalist, writer, and storytelling teacher. She lives with her husband in Berlin and Brittany, France.
1. What elements of the story line affected you most personally? Was it Marianne's loneliness? The way she boldly set out on a journey through a foreign country without knowing a word of the language?
2. Which character(s) did you identify with the most and why? Were there any characters that left you feeling perplexed or annoyed? Why?
3. The landscape is as much a protagonist in the book as the human characters (and to some extent, the animal ones). Is there a place, a region, a season in which you feel especially at home? Why? What appealed to you most about the Breton landscape is described—the light, the sea, the rocks, the stillness, the wildness?
4. Food, music and friendship: These are the essential ingredients that help Marianne reclaim her life. What things do you need in order to feel entirely, truly and deeply alive?
5. Religion, superstition and a woman's wisdom: Some scenes in the book touch on spiritual planes beyond the realm of established religions. What role do such planes have to play in today's world? How does belief in mythical forces, the invisible world beyond our physical one change the characters in The Little French Bistro?
6. Most often, we cannot change our lives from one day to the next by making only a single decision. Instead, it takes many small steps to explore a new path. What steps did Marianne take in The Little French/Breton Bistro that you were surprised by? Were there other paths you would you have liked to see Marianne take?
7. Love between people who "have a few more years under their belt than others" is rarely the subject of a novel. Why do we sometimes find it difficult to believe that older people are capable of the same insane longings, hopes, relationship troubles or desires as the young? Did you find the depiction of the lifestyles of these characters, most of whom are between 60 and 70 years old, relatable? Surprising?
8. Which of the characters in the book would you like to meet in real life? Where and on what occasion? What would you like to ask them?
9. It's said that books have the power to heal. They can change lives and cast the world in a new light. Do you have the sense that The Little French/Breton Bistro has given you something that you could use in your life? Another perspective? A different understanding of culture? An idea that you have long wanted to try out in your life?
10. If you had the chance to ask the author a question, what would it be?
11. If the book were to be made into a movie, who would you cast in the different roles?
or
Not Currently Available for Direct Purchase