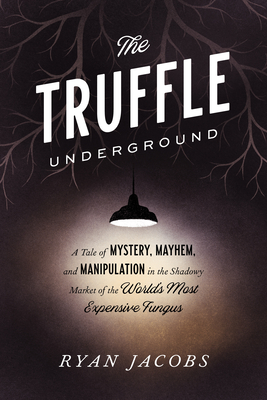 The Truffle Underground (Paperback)
A Tale of Mystery, Mayhem, and Manipulation in the Shadowy Market of the World's Most Expensive Fungus
Clarkson Potter, 9780451495693, 288pp.
Publication Date: June 4, 2019
* Individual store prices may vary.
Description
"The ultimate truffle true crime tale"*: A thrilling journey through the hidden underworld of the world's most prized luxury ingredient.

*Bianca Bosker, New York Times bestselling author of Cork Dork

Beneath the gloss of star chefs and crystal-laden tables, the truffle supply chain is touched by theft, secrecy, sabotage, and fraud. Farmers patrol their fields with rifles and fear losing trade secrets to spies. Hunters plant poisoned meatballs to eliminate rival truffle-hunting dogs. Naive buyers and even knowledgeable experts are duped by liars and counterfeits.

Deeply reported and elegantly written, this page-turning exposé documents the dark, sometimes deadly crimes at each level of the truffle's path from ground to plate, making sense of an industry that traffics in scarcity, seduction, and cash. Through it all, a question lingers: What, other than money, draws people to these dirt-covered jewels?

Advance praise for The Truffle Underground

"In elegant, mesmerizing prose, Ryan Jacobs has delivered a forest-to-table page-turner from the outer limits of our foodie culture, a place where colorful farmers, serial dog murderers and famous chefs grapple over a crudely foraged fungus that's traded in parking lots and bars, like heroin. The Truffle Underground is an eye-opener for anyone who's picked up a fork."—Steve Fainaru, New York Times bestselling author of League of Denial and Pulitzer Prize-winning investigative reporter

"The Truffle Underground is a fascinating, genre-blending romp. It's a business book, a mystery, a science lesson, and a love story that's as seductive as the buttery fungus at the heart of it all."—Derek Thompson, national bestselling author of Hit Makers and staff writer at The Atlantic

"Investigative journalist and first-time author Jacobs does a remarkable job reporting from the front lines of the truffle industry, bringing to vivid life French black-truffle farmers, Italian white-truffle foragers, and their marvelously well-trained dogs."—Booklist (starred review)

"[A] fascinating work . . . This deeply researched and eye-opening account of the lengths people will go for wealth, gratification, and a taste of the prized fungus will captivate readers."—Publishers Weekly 
About the Author
Ryan Jacobs is an investigative reporter and has written for The Atlantic, Mother Jones, and Pacific Standard, where he serves as deputy editor and leads the magazine's investigations desk. Before joining Pacific Standard, he covered international crime for The Atlantic's global channel, reporting on the largest diamond heist in French history, international carbon market scams, and the dark side of the truffle trade, among other subjects of intrigue. He graduated summa cum laude from Northwestern University's Medill School of Journalism.
Praise For The Truffle Underground: A Tale of Mystery, Mayhem, and Manipulation in the Shadowy Market of the World's Most Expensive Fungus…
"Jacobs is an unstoppable and captivating guide through the dark underbelly of the world's most glamorous fungus. This is the ultimate truffle true crime tale."—Bianca Bosker, New York Times bestselling author of Cork Dork

"[A] riveting debut . . . Ryan Jacobs weaves the fascinating scientific and historical backstory of the elusive culinary delicacy known as truffles with the stealthy feel of a diamond heist or spy operation. . . . The Truffle Underground is an eye-opening tale."—Bookpage
 
"A full-fledged mystery and exposé about a luxurious delicacy that comes at a far higher price than you ever imagined."—Forbes

"The Truffle Underground is a smart, revealing exposé into how that expensive piece of fungus made it to your plate, and the extreme lengths scammers go to farm and steal them. True-crime nerds, this is the unsuspecting story you've been waiting for."—Thrillist

"In an entertaining, revealing book debut, Pacific Standard deputy editor Jacobs brings his considerable skills as an investigative reporter to the fiercely competitive business of marketing truffles."—Kirkus Reviews
 
"It is totally unlikely that I will ever be a truffle hunter, but thanks to Ryan Jacobs' thrilling book, I have experienced truffle sales no less shady than a parking lot drug deal, escaped bandits with my haul intact, witnessed truffle heists, and mastered the scientific mysteries of their growth. And best of all, as a reward for having (not at all) lived through such mayhem, I feel entitled to say to the waiter, why yes, I will add truffles to my pasta for [exorbitant amount of money]." —Alexis Coe, author of Alice+Freda Forever: A Murder in Memphis and You Never Forget Your First: A Biography of George Washington

"Holy hell, this is a good book. With prose that is often as seductive as the elusive fungus itself, The Truffle Underground transports the reader to an intoxicating world of aromatic forests and international intrigue, full of passion, promise and danger, as gripping as any HBO prestige drama. This impressively researched and beautifully written debut is a must-read for anyone interested in how our food makes its way to our plate from its origin in the wild world. I found myself reading it far into the night, thinking again and again, just a few pages more..."—Summer Brennan, author of The Oyster War
 
"Fans of weird true crime will eat it up."—BuzzFeed, 1 of 66 Books Coming in 2019 That You'll Want to Keep on Your Radar