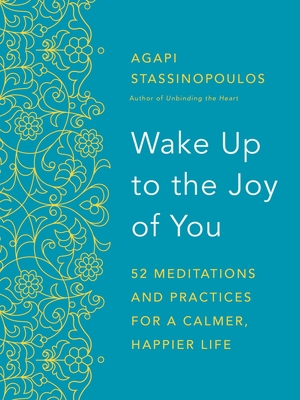 Wake Up to the Joy of You
52 Meditations and Practices for a Calmer, Happier Life
Hardcover

* Individual store prices may vary.
Other Editions of This Title:
Digital Audiobook (12/26/2016)
Description
This is your year of self-discovery, a journey to create a life filled with grace, meaning, zest, peace, and joy.

ONE OF HEALTHLINE'S 8 BEST MEDITATION BOOKS OF THE YEAR

With warmth and wisdom from a lifetime of spiritual seeking, inspirational force Agapi Stassinopoulos guides you through fifty-two weeks of letting go of what doesn't work for you and finding what does. You'll cultivate the building blocks of self-care (meditation, health, making time for yourself) and confront the common roadblocks we all face, like pouring your energy into other people or living in denial. You'll explore your "conflict" areas, such as relationships, money, self-esteem, anxiety, and your childhood. And you'll learn to trust your creativity, keep your heart open, and connect to the bigger spirit that lives inside you.
 
Keep this book by your bedside. It is your loving companion. Be creative and have fun with it. Use it as a tool to unlock your goodness, and wake up to the joy of you!
Praise For Wake Up to the Joy of You: 52 Meditations and Practices for a Calmer, Happier Life…
"Open this book at any chapter and you will tap into your calm and joy, no matter what challenges you may be facing." —Elizabeth Gilbert, author of Eat, Pray, Love and Big Magic

"Filled with spiritual insights and practical wisdom, Agapi has designed a guide for everyone to navigate the road back to your joy and to your connection with your bigger self. This book is a most valuable companion." —Deepak Chopra, author of Super Genes

"Agapi Stassinopoulus vibrates with life in a way that is contagious. In Wake Up to the Joy of You, she offers insights and vitality that serve as vitamins for the heart." —Mark Nepo, author of Inside the Miracle and The One Life We're Given

"Agapi's book is like entering a comfort zone for the soul. It is a book filled with portable grace that comes through each meditation." —Caroline Myss, author of Anatomy of the Spirit

"Allow the miracle of meditation and focus to uplevel your joy and your life. Let this marvelous book be your guide." —Christiane Northrup, M.D., ob/gyn physician and author of the New York Times bestsellers Goddesses Never Age: The Secret Prescription for Radiance, Vitality, and Wellbeing; Women's Bodies, Women's Wisdom; and The Wisdom of Menopause

"Wake Up to the Joy of You is full of practical wisdom about living a life of gratitude, generosity, and grace. I felt like I was in a personal conversation with Agapi—which is a real treat." —Adam Grant, Wharton professor and New York Times bestselling author of Originals and Give and Take

"Ever since I can remember, my sister Agapi lit up every room she was in and brought her joy to everyone who crossed her path. In this book she shares her heartfelt wisdom and shows how we are the creators of our lives and the source of our own happiness." —Arianna Huffington, co-founder of The Huffington Post and author of Thrive and The Sleep Revolution

"The core of a successful meditation practice is the sincere motivation to improve not just your own life, but all humanity. This is also the heart of a happy life. In this compelling book, Agapi Stassinopoulos reminds us of this simple yet profound truth, and with great warmth guides us towards a gentler, kinder and more compassionate way of life." —Andy Puddicombe, co-founder of Headspace

"Agapi is on a mission to help you find the calm in the chaos that we are all facing today. In this book, Agapi takes you on a journey of mind, body, and spirit to reconnect, heal, and create the change you desire. As you read, you'll be guided by Agapi's loving energy as she shows you how to use tools like meditation, which I strongly believe in and use daily in my own Urban Zen Integrative therapy program." —Donna Karan

"Wow.  This isn't just a book, it's a resource for living your best life. With Agapi's wisdom, joy and exuberance for life jumping off every page, she'll lead you to how you can create peace, harmony and balance in every aspect of your life." —Nick Ortner, New York Times bestselling author of The Tapping Solution
Harmony, 9780451496003, 320pp.
Publication Date: December 27, 2016
About the Author
AGAPI STASSINOPOULOS is a bestselling author and speaker who inspires audiences around the world. In her previous book, Unbinding the Heart: A Dose of Greek Wisdom, Generosity, and Unconditional Love, she shares wisdom from her life's adventures and experiences. Agapi was trained in London at the Royal Academy of Dramatic Art and then moved on to receive her master's degree in psychology from the University of Santa Monica. Her previous books on the Greek archetypes, Gods and God­desses in Love and Conversations with the Goddesses, were turned into PBS specials. She is currently conducting workshops for Thrive Global, a company founded by her sister, Arianna Huffington, to help change the way we work and live. She divides her time between New York and Los Angeles and was born and raised in Athens, Greece.

Find her online at www.WakeUptotheJoyofYou.com