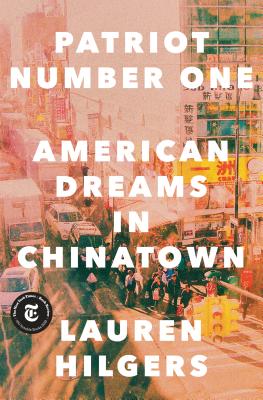 Patriot Number One
American Dreams in Chinatown
Hardcover

* Individual store prices may vary.
Other Editions of This Title:
Digital Audiobook (3/19/2018)
Paperback (4/9/2019)
Description
NAMED ONE OF THE BEST BOOKS OF 2018 BY
New York Times Critics • Wall Street Journal • Kirkus Reviews
Christian Science Monitor • San Francisco Chronicle

Finalist for the PEN Jacqueline Bograd Weld Biography Award
Shortlisted for the J. Anthony Lukas Book Prize

The deeply reported story of one indelible family transplanted from rural China to New York City, forging a life between two worlds
 
In 2014, in a snow-covered house in Flushing, Queens, a village revolutionary from Southern China considered his options. Zhuang Liehong was the son of a fisherman, the former owner of a small tea shop, and the spark that had sent his village into an uproar—pitting residents against a corrupt local government. Under the alias Patriot Number One, he had stoked a series of pro-democracy protests, hoping to change his home for the better. Instead, sensing an impending crackdown, Zhuang and his wife, Little Yan, left their infant son with relatives and traveled to America. With few contacts and only a shaky grasp of English, they had to start from scratch.

In Patriot Number One, Hilgers follows this dauntless family through a world hidden in plain sight: a byzantine network of employment agencies and language schools, of underground asylum brokers and illegal dormitories that Flushing's Chinese community relies on for survival. As the irrepressibly opinionated Zhuang and the more pragmatic Little Yan pursue legal status and struggle to reunite with their son, we also meet others piecing together a new life in Flushing. Tang, a democracy activist who was caught up in the Tiananmen Square crackdown in 1989, is still dedicated to his cause after more than a decade in exile. Karen, a college graduate whose mother imagined a bold American life for her, works part-time in a nail salon as she attends vocational school, and refuses to look backward.

With a novelist's eye for character and detail, Hilgers captures the joys and indignities of building a life in a new country—and the stubborn allure of the American dream.
Praise For Patriot Number One: American Dreams in Chinatown…
A New York Times Notable Book of 2018
A New York Times Book Review Editors' Choice

"Rich and absorbing... A penetrating profile of a man and much more besides: an indelible portrait of his wife and their marriage; a canny depiction of Flushing, Queens; a lucid anatomy of Chinese politics and America's immigration system... Hilgers observes all this with a sharp eye and an open heart... As evocative and engrossing as a novel."
—New York Times

"A superb account of Chinese immigrants in America... Stealing the show is Zhuang, irrepressible, quixotic, an endlessly scheming operator who finds his calling in activism.... [Patriot Number One] tells a powerful human story about America and the world in 2018."
—San Francisco Chronicle

"Excellent... a well-researched, informative look at the realities of Chinese immigration. It also depicts one man's battle to figure out who he is."
—Wall Street Journal

"Hilgers is a gifted writer and reporter whose talent for observation shines through the book's opening chapters.... [Her] deep reporting and relationships grant her access to a world that is almost completely unknown to others."
—New York Times Book Review

"[A] clear-eyed, humane look at modern immigration... Hilgers' narrative intercuts between the dramatic rebellion in Wukan and a vibrant portrait of Flushing's Chinese diaspora built around fine-grained character studies drawn with equal parts empathy and humor. The result is a quintessentially American story of exile and renewal."
—Publishers Weekly (starred)

"With admirable attention to narrative detail, [Hilgers] gives a nuanced portrait of a vibrant working-class immigrant neighborhood.... This excellent book makes a powerful argument for why the U.S. should always remain a place of sanctuary, benefiting immensely from those who arrive from other shores."
—Kirkus Reviews (starred)

"Zhuang and Little Yan jump off the page fully realized; it's impossible not to root for them and their friends... A highly readable story about starting over in a new land; a must-read for all."
—Library Journal (starred)

"Patriot Number One is a wonderfully intimate portrait of Chinese immigrants. Lauren Hilgers followed her irrepressible protagonist (or rather he followed her) from a village in southern China to Queens, N.Y., and her book is chockablock with fresh observations and humor about both worlds."
—BARBARA DEMICK, author of Nothing to Envy
 
"A timely, informative book that offers a truthful account of the immigrant and exile experiences in the Chinese-American context. Hilgers captures the lives of her subjects with generosity, nuance, and psychological acuity."
—HA JIN, author of Waiting, winner of the National Book Award for Fiction
 
"With her fluent Chinese and meticulous reporting, Lauren Hilgers has crafted a deeply sympathetic portrait of some of the country's newest Chinese-Americans."
—PETER HESSLER, author of River Town and Oracle Bones
 
"Lauren Hilgers has found an unexpected hero in the southern Chinese teashop owner Zhuang Liehong, who launched perhaps the most important grassroots political movement in China since Tiananmen Square. In this fascinating book, Hilgers shows us how one person and one village can make a difference—and how precarious a life in exile can be." 
—PAUL FRENCH, author of Midnight in Peking
 
"In Patriot Number One, Lauren Hilgers deftly weaves the personal with the political, the sweeping with the intimate, an immigration story that is genuinely timeless with a bracingly specific picture of Flushing, Queens, right now. She captures the ambitions and foibles of a trio of Chinese strivers, and demonstrates, in rousing detail, that whatever happens to America, it is still a country built on dreams."
—PATRICK RADDEN KEEFE, author of The Snakehead

"Lauren Hilgers's Patriot Number One tells a great story spanning China and America, shedding light on the most complex and tangled relationship between any two nations in the world. It's a great yarn."
—JOHN POMFRET, author of Chinese Lessons and The Beautiful Country and the Middle Kingdom
 
"Patriot Number One is an intricate and engaging dual portrait of the struggles of New York Chinese working class immigrants and the struggles of China's village democracy. Its carefully rendered scenes offer a rare depth to worlds we know mostly from headlines."
—JENNIFER 8. LEE, author The Fortune Cookie Chronicles: Adventures in the World of Chinese Food
 
"The humanity, sly humor, and drama of Patriot Number One make it a delight to read. Its intertwined China-and-America narrative is revealing about both countries. This joins the list of books that easily convey larger messages through a vivid focus on the particular."
—JAMES FALLOWS, author of Postcards from Tomorrow Square: Reports from China and Our Towns
 
"Patriot Number One brilliantly captures the bittersweet combination of joy, sorrow, and transformation of Chinese immigrants in New York City. Lauren Hilgers' vibrant, compassionate writing transports readers to the gritty streets and vertiginous world of the recently arrived, enabling you to see America with a set of new eyes."
—ROB SCHMITZ, author of Street of Eternal Happiness; Shanghai correspondent, NPR

"Patriot Number One is a page-turning tale of the sub-world of exiled Chinese dissidents in American society. While Chinese immigration dates back generations, Lauren Hilgers has tapped into the more recent wave of Chinese political exiles and asylum seekers—and she astutely tracks their various struggles adjusting to life in America. A fascinating read."
—DAVID SHAMBAUGH, author of China Goes Global; professor of political science, George Washington University

"In Patriot Number One, Lauren Hilgers expertly weaves history and current events into a compelling human narrative, writing with clarity and compassion about how the outsized dreams of immigrants can collide with the an indifferent world. True patriotism, this book shows us, means demanding better of the place that you love."
—LAUREN MARKHAM, author of The Far Away Brothers: Two Young Migrants and the Making of an American Life

"Lauren Hilgers captures with poignancy and humor the courage of immigrants who reach for the American dream. As we follow the tale of Zhuang and his wife Little Yan, we stumble along with them, suffering the indignities of those new to this culture and language, buoyed by their successes. The result is a touching and insightful portrait of modern Chinese immigrants and their community." 
—JEAN KWOK, author of Girl in Translation
Crown, 9780451496133, 336pp.
Publication Date: March 20, 2018
About the Author
LAUREN HILGERS lived in Shanghai, China for six years. Her articles have appeared in Harper's, Wired, Businessweek, The New Yorker, and The New York Times Magazine. She lives in New York with her husband and their daughter.