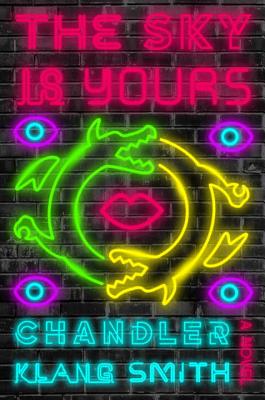 The Sky Is Yours (Hardcover)
A Novel
Hogarth, 9780451496263, 464pp.
Publication Date: January 23, 2018
* Individual store prices may vary.
Description
A sprawling, genre-defying epic set in a dystopian metropolis plagued by dragons, this debut about what it's like to be young in a very old world is pure storytelling pleasure.
 
In the burned-out, futuristic city of Empire Island, three young people navigate a crumbling metropolis constantly under threat from a pair of dragons that circle the skies. When violence strikes, reality star Duncan Humphrey Ripple V, the spoiled scion of the metropolis' last dynasty; Baroness Swan Lenore Dahlberg, his tempestuous, death-obsessed betrothed; and Abby, a feral beauty he discovered tossed out with the trash, are forced to flee everything they've ever known. As they wander toward the scalded heart of the city, they face fire, conspiracy, mayhem, unholy drugs, dragon-worshippers, and the monsters lurking inside themselves.

In this bombshell of a novel, Chandler Klang Smith has imagined an unimaginable world: scathingly clever and gorgeously strange, The Sky Is Yours is at once faraway and disturbingly familiar, its singular chaos grounded in the universal realities of love, family, and the deeply human desire to survive at all costs.
 
"There have been a lot of books heralded as heirs to Infinite Jest, but I can happily say: this is it." —Leah Schnelbach, Tor.com
About the Author
CHANDLER KLANG SMITH is a fiction writer from Springfield, Illinois. She graduated from Bennington College and has an MFA from Columbia University. She currently lives in New York City.
Praise For The Sky Is Yours: A Novel…
LitHub: "Favorite Books of 2018"
HuffPost: "60 books we can't wait to read in 2018!"  
The Millions: "Most Anticipated Books of 2018"

Praise for The Sky Is Yours:
 
"Smith's gifts of imagination are staggering.  Her world-building is a tangled sprawl of past, present, and future, a wickedly satirical synthesis that underlines just how fractured our own realities can be during periods of fear, unrest, inequality, and instability….In language that punches and caresses, [Smith] dwells on ugliness and beauty in equal measure…Much like Lev Grossman's The Magicians and Charlie Jane Anders' All The Birds in the Sky before it, The Sky is Yours filters youth through a warped yet poignantly canny speculative-fiction lens.  At the same time, it's funny as hell, full of madcap detail, firecracker dialogue, and a healthy dose of absurdism in the face of darkness."
— NPR.org

"Eight years in the making, this imaginative work of fiction is beholden to no rules. Influenced by the likes of Jane Austen and Rick and Morty, Smith tackles timely issues while leaving room for some delicious reality TV references." 
— Entertainment Weekly

"Readers who love ambitious literary genre fiction should be on the lookout for Smith's first novel, a vibrantly uncanny dystopia set on an island metropolis, in the shadow of dragons that swoop overhead, where income inequality and mass incarceration have spun out of control."
—HuffPost
 
"It's a mesmeric world, comic in the way teenage voyages of self-discovery inevitably are, but with an undertone of menace, horror, even hints of allegory. Satire, too… Ms. Smith's imagination is inexhaustible. The Sky Is Yours is a great and disturbing debut, which colonizes a new realm of the magic city."
–The Wall Street Journal 
 
"There have been a lot of books heralded as heirs to Infinite Jest, but I can happily say: this is it.  I've found it...Chandler Klang Smith has unleashed her own slipstream, genrefluid monster of a book – that also happens to be fun, visceral, heartbreaking, and genuinely funny.  The Sky Is Yours is bursting with ideas and characters, and I'd advise you to take a break after reading it, because other books are probably going to seem a bit black – and –white for a while...The Sky is Yours may be a rollicking adventure, but it also has a bracing, honest heart."
—Tor.com

"To say that Smith's debut is delightful is selling it short. I mean, it is delightful: you can feel an ebullient energy bouncing through the words and the story. It's weird and it's creative and it is full of heart. . . . In so many ways, The Sky Is Yours should be a glorious mess, given all that this writer is doing. But while it is glorious, it isn't a mess. It is warm and violent and strange and comforting in equal measure, without ever falling apart."
–Locus

"The Sky Is Yours, the brilliantly colorful new novel by Chandler Klang Smith… recalls the surreal weirdness of Jeff VanderMeer's City of Saints and Madmen or China Mieville's Perdido Street Station, but the oddball intensity of its kaleidoscopic plot gives the novel a distinctive flavor all its own."
–The Geek's Guide to the Galaxy (Wired.com) 

"Smith's The Sky Is Yours is a blockbuster of major label debuts. The dystopic inventiveness of this genre hybrid sci-fi thriller/coming of age tale/adventure novel has garnered comparisons to Gary Shteyngart, David Mitchell and Ridley Scott's Blade Runner. And did I mention? It has dragons, too."
—The Millions
 
"[Smith creates] characters so richly real and honest that you can't believe that such wild things are happening. In other words, I loved it—and I cannot recommend it highly enough."
—PopSugar

"[Smith's] dystopian dragon-opus . . . is a marvel: a smart, ribald and relentlessly imaginative tale about three troubled teens making their way through a fallen world of psychotropic chewing tobacco-dealers, monster cults and, yup, you guessed it, big-ass dragons. . . . I privately like to think of it as a soupcon of the movies Reign of Fire and Brazil, and the novels Station Eleven by Emily St. John Mandel and We Have Always Lived in the Castle by Shirley Jackson."
— Electric Literature

"Chandler Klang Smith's The Sky is Yours is an unmissable masterpiece." 
—PopSugar

"One of the boldest debut novels of next year . . . [a] powerfully human story of survival."
—Nerdmuch.com

 "Smith's prose is an amazing performance. It's high-intensity, original, funny…She has a great sense of dark humor that she used to good effect throughout the story….If you like strange, vivid prose and lots of acid-etched humor, you'll enjoy this."
—Fantasy Literature
 
"Every once in a while, along comes a debut novel that conveys a sense of no-holds bared imagination. . . . The story unfurls into breathtaking complexity."
—Barnes and Noble Sci-Fi & Fantasy Blog
 
"Swanny . . . is the genuine star of the show. Loud, vibrant, and witty, she crackles with energy and life."
—Booklist

"It's survival at all costs in Smith's genre-defying debut."
—Kirkus Reviews

"Hyperimaginative…Smith's novel calls to mind the works of Nick Harkaway and Game of Thrones.…An auspicious debut with enough inventiveness for two novels."
– Publishers Weekly
  
"Chandler Klang Smith comes roaring out the gate with a raucous, inventive gem of a debut. Science fiction, coming of age, and adventure novel, The Sky Is Yours blends its genres brilliantly. To top it all off the book is funny as hell."
–Victor LaValle, author of The Ballad of Black Tom and The Changeling

"Brilliant, darkly hilarious and almost impossible to describe. Imagine if Terry Gilliam adapted a coming-of-age adventure set in William Gibson's dystopian sprawl and threw in a dash of Jane Austen. I loved it."
– Scott Hawkins, author of The Library at Mount Char

"Chandler Klang Smith's The Sky Is Yours  is a visionary, funny, infuriating dystopic romp, and it's full of carefully observed character details and revelations that simultaneously broke my heart and made it soar like a dragon."
– Paul Tremblay, author of A Head Full of Ghosts and Disappearance at Devil's Rock