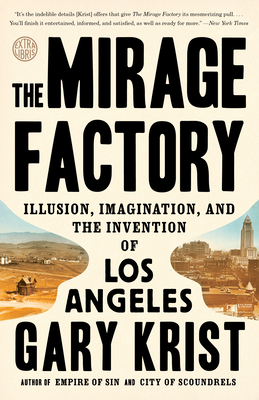 The Mirage Factory
Illusion, Imagination, and the Invention of Los Angeles
Paperback

* Individual store prices may vary.
Other Editions of This Title:
Digital Audiobook (5/14/2018)
Hardcover (5/15/2018)
Description
From bestselling author Gary Krist, the story of the metropolis that never should have been and the visionaries who dreamed it into reality
 
Little more than a century ago, the southern coast of California—bone-dry, harbor-less, isolated by deserts and mountain ranges—seemed destined to remain scrappy farmland. Then, as if overnight, one of the world's iconic cities emerged. At the heart of Los Angeles' meteoric rise were three flawed visionaries: William Mulholland, an immigrant ditch-digger turned self-taught engineer, designed the massive aqueduct that would make urban life here possible. D.W. Griffith, who transformed the motion picture from a vaudeville-house novelty into a cornerstone of American culture, gave L.A. its signature industry. And Aimee Semple McPherson, a charismatic evangelist who founded a religion, cemented the city's identity as a center for spiritual exploration.

All were masters of their craft, but also illusionists, of a kind. The images they conjured up—of a blossoming city in the desert, of a factory of celluloid dreamworks, of a community of seekers finding personal salvation under the California sun—were like mirages liable to evaporate on closer inspection. All three would pay a steep price to realize these dreams, in a crescendo of hubris, scandal, and catastrophic failure of design that threatened to topple each of their personal empires. Yet when the dust settled, the mirage that was LA remained.

Spanning the years from 1900 to 1930, The Mirage Factory is the enthralling tale of an improbable city and the people who willed it into existence by pushing the limits of human engineering and imagination.


Praise For The Mirage Factory: Illusion, Imagination, and the Invention of Los Angeles…
A Washington Post Notable Book of 2018
An NPR Best Book of 2018
An Amazon Best Book of 2018

"[Krist] marshals his considerable storytelling skills to capture Los Angeles at a critical moment…expertly weav[ing] together the stories of Griffith, Mulholland and McPherson….But above all Krist is a nimble scene-setter, and it's the indelible details he offers that give The Mirage Factory its mesmerizing pull....You'll finish it entertained, informed and satisfied, as well as ready for more." —The New York Times

"As a writer, Krist is a dream-weaver…exquisite pacing and seamless shifting between the characters allow their stories to connect….I've read dozens of histories of the Los Angeles Aqueduct, and none are as viscerally compelling or as clear in detailed descriptions of the complicated machinations as Krist's account….Krist's book is so good that, like the best movies, it ends up inverting the genre." —The Washington Post

"Krist draws upon some of the best books about the era and its people, enriching them with a virtuoso deploying of detail gathered from deep dives into the primary material…Watered with imagination and invention, some mirages evidently can sink their roots deeply into reality." —The New York Times Book Review

"Colorful and fresh…The Mirage Factory is great not only for the wealth of obscure facts Krist manages to weave into his tale of his three larger-than-life figures but also for the evocative word pictures of old Los Angeles and Hollywood he conjures up…My only complaint after finishing the book was: more, please." —LA Weekly

"The crimes of Los Angeles, in the hands of Gary Krist, have now filled a fat, juicy volume….The Mirage Factory is essential reading for the understanding and enjoyment of America's dream factory." —The Philadelphia Inquirer

"Engrossing…Krist serves up intricate stories, rich period atmosphere, and colorful personalities to capture the zeitgeist of this eventful period. The result is a rollicking jaunt through L.A.'s early days." —Publishers Weekly

"[Krist's] dramatic portrayals of politics, scandals, sabotage, and bombings make for a rich, rewarding read….An entertaining, intertwined tale of triumph, hubris, and Manifest Destiny in the city of angels." —Kirkus

"A definite page-turner for those with an interest in LA as the booming metropolis we know today as well as the fascinating cross-sections of the American West, biography, public works, water access and scarcity, Hollywood and film industry, religious history, and evangelism." —Library Journal

"A revealing and often fascinating exploration of the growth of a great city." —Booklist

"Gary Krist is a city whisperer as well as a brilliant writer. He shows the soul of L.A. through the lives of three dreamers who helped conjure out of a sleepy town the foundation for an improbable and profoundly influential metropolis. A vastly entertaining and informative book, even for someone who has spent more than half his life here." —Eric Lax, author of Start to Finish
 
"Gary Krist, who earlier portrayed crises in early-20th century New Orleans and Chicago, now vividly captures booming Los Angeles in all its emerging glory.  He does it through well-chosen and keenly-executed portraits of three famous (and deeply flawed) evangelists—for water, for motion pictures, for Jesus—who shaped the city we know today." —Greg Mitchell, author of The Tunnels
 
"A captivating portrayal of the City of Angels, told through the lives of three of its most colorful creators. Gary Krist has captured the moment when Los Angeles became the world's most fascinating city." —John Buntin, author of L.A. Noir
Crown, 9780451496393, 432pp.
Publication Date: May 14, 2019
About the Author
GARY KRIST has written for the New York Times, Esquire, Salon, Washington Post Book World, and elsewhere. He is the author of the bestselling Empire of Sin and City of Scoundrels, as well as the acclaimed The White Cascade. He has been the recipient of the Stephen Crane Award, the Sue Kaufman Prize from the American Academy of Arts and Letters, a Lowell Thomas Gold Medal for Travel Journalism, and a fellowship from the National Endowment for the Arts.