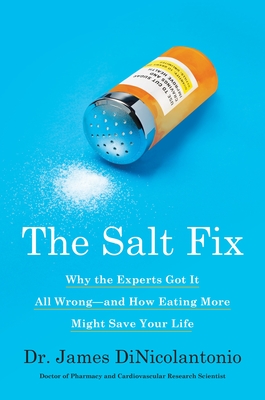 The Salt Fix (Hardcover)
Why the Experts Got It All Wrong--and How Eating More Might Save Your Life
Harmony, 9780451496966, 272pp.
Publication Date: June 6, 2017
* Individual store prices may vary.
Description
We've all heard the recommendation: eat no more than a teaspoon of salt a day for a healthy heart. Health-conscious Americans have hewn to the conventional wisdom—that your salt shaker can put you on the fast track to a heart attack—and have suffered through bland but 'heart-healthy' dinners as a result.
 
What if the low-salt advice is wrong?
 
Dr. James DiNicolantonio, a leading cardiovascular research scientist, has reviewed over 500 publications to unravel the impact of salt on blood pressure and heart disease. He's reached a startling conclusion: The vast majority of us don't need to watch our salt intake. In fact, for most of us, more salt would be advantageous to your health. The Salt Fix tells the remarkable story of how salt became unfairly demonized—a never-before-told drama of competing egos and interests—and took the fall for another white crystal: sugar.
 
In fact, too little salt can:
• Cause you to crave sugar and refined carbs.
• Send the body into semi-starvation mode.
• Lead to weight gain, insulin resistance, type 2 diabetes, cardiovascular disease, chronic kidney disease, and increased blood pressure and heart rate.
 
On the other hand, eating the salt your body desires can:
• Improve everything from your sleep, energy, and mental focus to your fitness, fertility, and sexual performance
• And stave off common chronic illnesses, including heart disease.
 
Dr. DiNicolantonio shows the best ways to add salt back into your diet, offering his transformative five-step program for recalibrating your salt thermostat to achieve your unique, ideal salt intake. Science has moved on from the low-salt dogma, and so should you—your life may depend on it.
About the Author
JAMES J. DINICOLANTONIO, PHARM.D. is a cardiovascular research scientist and doctor of pharmacy at Saint Luke's Mid America Heart Institute in Kansas City, Missouri. A well-respected and internationally known scientist, and expert on health and nutrition, he has contributed extensively to health policy and has even testified in front of the Canadian Senate regarding the harms of added sugars. He serves as the Associate Editor of British Medical Journal's (BMJ) Open Heart, a journal published in partnership with the British Cardiovascular Society. He is the author or coauthor of approximately 200 publications in the medical literature. He is also on the Editorial Advisory Board of several other medical journals, including Progress in Cardiovascular Diseases and International Journal of Clinical Pharmacology & Toxicology (IJCPT).
Praise For The Salt Fix: Why the Experts Got It All Wrong--and How Eating More Might Save Your Life…
"The truth about what salt is really doing to your body." –The Telegraph

"James DiNicolantonio shakes up a nutritional hornet's nest with his new book... [A] smart and interesting account of [the ferocious scientific debate]." –Michael Bader, author of More than Bread and Butter, for Alternet.org

"DiNicolantonio's premise completely overturns the conventional wisdom about salt consumption." – Take Care Broadcast, wrvo.org

"Thought-provoking, evidenced-based information for anyone interested in improving their health." –Library Journal

"Why we should embrace the salt shaker, not shun it." –Canadian National Post

"Dr. DiNicolantonio takes us away from hype and hyperbole to a place of rationality as it relates to salt. This extensively researched text lets us finally erase the guilt all of us felt when catering to our desire for this important mineral." —David Perlmutter, MD, #1 New York Times bestselling author of Grain Brain and The Grain Brain Whole Life Plan

"In his new book The Salt Fix, Dr. James DiNicolantonio shatters the age-old myth that salt is a cause of heart disease. He also makes excellent recommendations for a heart-healthy diet that your tastebuds will really enjoy! If you want to learn how to make food taste great again, discover tips to improve your heart health, and be enlightened about the truth about salt, you've got to check out this book!" —Dr. Josh Axe, author of Eat Dirt, founder of DrAxe.com

"For decades, doctors and mainstream medicine have recommended that you lower your salt intake, but in this well-researched and surprising book, Dr. DiNicolantonio explains why this seemingly well-informed advice is, in fact, wrong.  The Salt Fix provides the advice and the program you need to add back the salt and in the process improve your health and your waistline." –Robb Wolf, New York Times bestselling author of The Paleo Solution and Wired to Eat

"The medical profession has done a disservice to millions of people by misleading them into thinking they need to avoid salt in their diets. Our blood is salty; our tissue fluids are salty; we need salt to thrive.  In The Salt Fix, Dr. DiNicolantonio charts the ill-begotten thinking that got us to this sorry state of almost universal salt avoidance, and imparts invaluable scientifically-sound advice for adding this healthful substance back into your diet.  Dr. DiNicolantonio's book will help you improve your health by actually adding salt back into your favorite foods." –Michael R. Eades, M.D., New York Times bestselling author of Protein Power

"This superb book busts many misconceptions around salt consumption. It's a must read." –Dr. Aseem Malhotra, Consultant Cardiologist and advisor to UK's National Obesity Forum