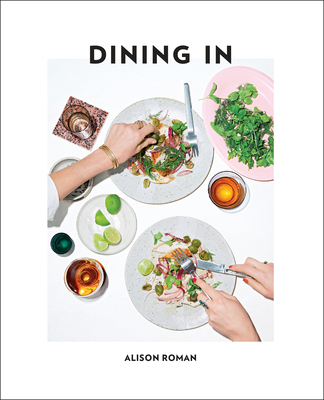 Dining In (Hardcover)
Highly Cookable Recipes
Clarkson Potter, 9780451496997, 304pp.
Publication Date: October 24, 2017
* Individual store prices may vary.
Description
Dining In made Alison Roman's SALTED BUTTER CHOCOLATE CHUNK SHORTBREAD Instagram-famous, but in fact all the recipes in this most-talked-about and of-the-moment cookbook are just as much of a source of inspiration. With 125 recipes for effortlessly chic dishes that are full of quick-trick techniques (think slathering roast chicken in anchovy butter, roasting citrus to ramp up the flavor, and keeping boiled potatoes in the fridge for instant crispy smashed potatoes), it's no wonder Dining In has been dubbed a "treasure map" (Samin Nosrat, James Beard Award-winning author of Salt, Fat, Acid, Heat). Roman's recipes—vegetable-forward with quality ingredients, punctuated by standout flavors like hot honey browned butter, preserved lemon, za'atar, and garlicky walnuts—have set today's trends and are already establishing themselves as classics thanks to her devoted social media following. Her ingenuity seduces seasoned cooks, while her warm, edgy writing makes these recipes practical and approachable enough for the novice. Cooking through Dining In is the next best thing to having Alison right there with you in the kitchen: brash, funny, and full of opinions.
About the Author
ALISON ROMAN is a contributor at Bon Appétit and The New York Times. Her work has been featured in GQ, Cherry Bombe, The Cut, and Lucky Peach. The author of Dining In and Lemons, a Short Stack Edition, Alison has worked professionally in kitchens such as New York's Momofuku Milk Bar and San Francisco's Quince. A native of Los Angeles, she lives in Brooklyn.
Praise For Dining In: Highly Cookable Recipes…
"Roman's book is filled with plenty [of] inventive ideas that would work just as well for a weeknight meal as for a high-stakes dinner party."--Vogue

"Drool-worthy yet decidedly unfussy food."--Goop

"Some of Roman's greatest hits."--The Cut

Dining In is more than just a long list of super interesting recipes — it's a book that will probably fundamentally change the way I cook. Recipes with unfussy new techniques like her Anchovy-Butter Chicken with Chicken Fat Croutons (with some radishes on the side!) produce ridiculously pleasing results that have inspired me to always take that extra little step. The book is filled with sneaky gems meant to steal the show at dinner parties. Make her Salted Butter & Chocolate Chunk Shortbread for dessert and you'll never be mad again. —Myles Tanzer, The Fader

"BA superstar Alison Roman combines expertise with ease. Dining In should make Brooklynesque restaurants around the country nervous. Why would you dine out when you can roast chicken in anchovy butter and toast up croutons in the schmaltzy, umami-tastic butter, or make crispy chickpeas and lamb with greens and garlicky yogurt?"--Bon Appétit

"... you might walk right past this cookbook, with its modest title and quiet design, but take my advice and stop for a closer look... Nearly every recipe I tried was a desert-island dish: blistered green beans with creamy tahini, cumin lamb chops with charred scallions and peanuts, salted butter and chocolate chunk shortbread. Definitely for dining in, as the title suggests, since you'll want your privacy as you're licking every last crumb off your plate." T. Susan Chang, NPR

"Roman's voice is funny and energetic and such a change of pace from the usual short-and-robotic recipe format."--BonAppetit.com

"Anyone who wants the aesthetic, quality, and creativity of a Brooklyn restaurant without having to go to a Brooklyn restaurant will love Alison Roman's cookbook. It's filled with recipes that are both unique and approachable. Reading it, you'll find yourself thinking 'I would have never thought of making this but I want to make it right now'."--Buzzfeed

"One of the year's best cookbooks." -- Joanna Goddard, A Cup of Jo 

"Very much a reflection of how we eat now."--Mind Body Green

"Not your grandmother's all-purpose cookbook."--Food52

"A classic waiting to happen."--Epicurious

"Former pastry chef and food editor Alison Roman's first book is a collection of recipes that speak to this moment in modern dining: One-pot dinners, sharable plates, casual desserts. Roman makes clever use of pantry staples and condiments to season and draw flavor out of winter vegetables and slowly simmered stews."--Eater 

"[Roman's] recipes feature plenty of "it" ingredients, like kimchi, pistachios,and za'atar, but they all make delicious, craveworthy sense. Flipping through Dining In, I wanted to read every word and make every dish; there's not too many cookbooks I can say that about."--Fine Cooking

"Designed to make your weeknight dinner more delicious and less fussy."--The Kitchn

"Alison Roman, who has cooked in restaurants (Milk Bar, Momofuku) and editorial kitchens (Bon Appétit), reads a little like a contemporary Colwin–in that her voice dances with energy and wit and self-awareness and intelligence. She seems to have little interest in precious cooking, fancy kitchen gadgets or anything that distracts from honest ingredients and foolproof techniques. To read Alison Roman is to feel a kind of instantaneous kinship."--The Atlanta Journal-Constitution

"Like your best friend who's a great cook, [Alison Roman]  spends a lot of ink up front persuading you that, yes, you can do this, you can cook. And as your best friend, she speaks to you in a conspiratorial tone and keeps things easy. Her recipes rely less on tricky technique than on clever flavor and textural combinations. Everything seems thrown together in a breezy manner, but the genius is evident… Every recipe seems "highly cookable," her catchphrase, and craveable. And any chef who admits she likes black olives from a can "that you can wear on your fingers" is someone we'll follow into that kitchen.
"--The Chicago Tribune

"This isn't one of those pretty cookbooks that sits on a shelf. It's a pretty cookbook filled with winning recipes begging to be made."--The Boston Globe

"Fun and approachable, and most likely better than most dishes you'd order eating out."--The San Francisco Chronicle

"Alison Roman's cooking is artfully effortless, with flavors that jump off the plate. It's the kind of food you want to eat every day—and now you can."—Adam Rapoport, Editor-in-Chief, Bon Appétit

 "I am always wondering what Alison Roman is cooking because, without fail, it's just what I want to make (Sour Cream Flatbread! Vinegar-Braised Chicken!). From her relaxed approach to her inventive combinations, Alison's indispensable recipes are easy to prepare and fun to eat and make home the best place to dine."—Julia Turshen, author of Small Victories 

"This is not a cookbook. It's a treasure map. Alison Roman joyously leads you to the promised land of extraordinary home cooking. Into every one of her stunningly beautiful recipes she's tucked the clues that will invariably lead you to deliciousness: keep it simple, have fun with your food, pack in the flavor, and, most importantly, share it with the people you love."—Samin Nosrat, bestselling author of Salt, Fat, Acid, Heat

 "Never too fancy, Alison solves the greatest mystery every home cook faces—how to transform thoughtful food into a greater-than-the-sum-of-its-parts one-pan-wonder or next-level crowd-pleasing masterpiece."—Christina Tosi, author of Momofuku Milk Bar

"Unpretentious, inspired, invigorating, Alison Roman's voice is exactly what I've been waiting for in cookbooks. Within hours of opening Dining In, the irresistible Anchovy-Butter Chicken was in the oven. Dining In is destined to be a beloved, food-stained, dog-eared Bible for a new generation of cooks."—Stephanie Danler, bestselling author of Sweetbitter
 
"Sorry, restaurants. Superstar Alison Roman has given us recipes so delicious, so meltdown-proof – and so fun to read – we're going to be cooking at home for a while. Quite possibly forever."—Christine Muhlke, Editor at Large, Bon Appétit
 
"Dining In is exactly how I want to cook: with bright, fresh flavors, minimal technique, and no pretense…This isn't just a bunch of great recipes, but a manifesto on how one original, opinionated home cook sees the world." —Amanda Hesser, Co-Founder, Food52

Notable Press & Accolades:

Best Cookbooks of 2017—Epicurious

Best Cookbooks of 2017 —NPR

Best Cookbooks of 2017 —San Francisco Chronicle

Best Cookbooks of 2017 —Newsday

Best Cookbooks of 2017—Amex Essentials 

Best Cookbooks of 2017—KCWR's "Good Food"

Best Cookbooks of 2017—The Fader