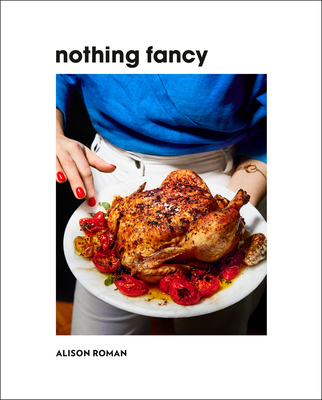 Nothing Fancy
Unfussy Food for Having People Over
Hardcover

* Individual store prices may vary.
Description
NEW YORK TIMES BESTSELLER • The social media star, New York Times columnist, and author of Dining In helps you nail dinner with unfussy food and the permission to be imperfect.
 
"Enemy of the mild, champion of the bold, Ms. Roman offers recipes in Nothing Fancy that are crunchy, cheesy, tangy, citrusy, fishy, smoky and spicy."—Julia Moskin, The New York Times

IACP AWARD FINALIST • NAMED ONE OF THE BEST COOKBOOKS OF THE YEAR BY The New York Times Book Review • The New Yorker • NPR • The Washington Post • San Francisco Chronicle • BuzzFeed • The Guardian • Food Network
 
An unexpected weeknight meal with a neighbor or a weekend dinner party with fifteen of your closest friends—either way and everywhere in between, having people over is supposed to be fun, not stressful. This abundant collection of all-new recipes—heavy on the easy-to-execute vegetables and versatile grains, paying lots of close attention to crunchy, salty snacks, and with love for all the meats—is for gatherings big and small, any day of the week.
 
Alison Roman will give you the food your people want (think DIY martini bar, platters of tomatoes, pots of coconut-braised chicken and chickpeas, pans of lemony turmeric tea cake) plus the tips, sass, and confidence to pull it all off. With Nothing Fancy, any night of the week is worth celebrating.

Praise for Nothing Fancy

"[Nothing Fancy] is full of the sort of recipes that sound so good, one contemplates switching off any and all phones, calling in sick, and cooking through the bulk of them."—Food52
 
"[Nothing Fancy] exemplifies that classic Roman approach to cooking: well-known ingredients rearranged in interesting and compelling ways for young home cooks who want food that looks (and photographs) as good as it tastes."—Grub Street
Praise For Nothing Fancy: Unfussy Food for Having People Over…
"Ms. Roman offers recipes in Nothing Fancy that are crunchy, cheesy, tangy, citrusy, fishy, smoky and spicy. . . . They work, and not only for company . . . squash scattered with spiced pistachios or pasta with chorizo bread crumbs and broccoli rabe could appear anytime. For dinner parties, she provides cocktail recipes, extra snacks and pep talks so urgent and encouraging that having people over for leg of lamb and tiramisù suddenly seems like a bucket-list event."—Julia Moskin, The New York Times

"Roman makes food more interesting. . . . [Nothing Fancy] has a why-didn't-I-think-of-that simplicity."—The New Yorker

"[Roman] could offer a master's program in Approachable Recipe. . . . [Nothing Fancy is] a manual not just for dinner, but for life."—The Washington Post

"Nothing Fancy is like an all-access pass to [Roman's] stunning-yet-relaxed recipes."—HuffPost, "Best Cookbooks to Give as Gifts"

"The title of this book says it all. Alison Roman delivers relaxed-but-impressive, easily executed, people-pleasing food like single-pot dishes of aromatic coconut-braised chicken and chickpeas and sheets of lemon turmeric tea cake."—Forbes

"The recipes will provide well for friendly dinner parties, while still being straightforward enough to cook quickly on a midweek evening after work."—Vogue

"Roman's recipes are elegant but straightforward, impressive but actionable, with an emphasis on easy vegetables (like peppers with yuzu), homespun desserts (like blackberry and cornmeal cake), and show-stopping entrees (like lamb chops for the table)."—Esquire

"This follow-up to Dining In answers the perennial question of what to serve when people are coming over as only Alison can: with legit fun ideas—Pizza Night! Baked Potato Bar!—and unfussy recipes. (I've already bookmarked 'A Very Good Lasagna' and 'Casual Apple Tart.')"—Julia Kramer, deputy editor, Bon Appétit

"Nothing Fancy's recipes are on-trend but unpretentiously so. . . . Most relevant of all is Roman's attitude toward hosting: that all of us can do it, that we should embrace the imperfections of our plans, and that it's more fun to try than to stress. . . . Roman is leading the charge in revitalizing the art of gathering your community around the dinner table."—Eater

"In her signature wry voice, Roman lays out simple and elegant recipes, recipes including spritzes, coconut-braised chicken and chickpeas, celery and fennel with walnuts and blue cheese, and more. It's worth noting that one of our editors already took a crack at the lemony turmeric tea cake, to delicious results. (Also worth mentioning: the DIY martini bar.)"—Food & Wine

"This has to be one of the most anticipated cookbooks of the year—Alison Roman's Dining In is a modern day classic, and her new work is sure to join it on scores of 'best' lists soon enough. It focuses on having people over for dinners that are the opposite of fussy, but are still festive (just witness the DIY martini bar guide within its pages for proof)."—Chowhound

"In this follow-up to the award-winning Dining In, [Roman] transitions her signature breezy panache to that most fear-inspiring topic: entertaining (or, as Roman likes to call it, 'having people over'). But the recipes are just as laid-back and uncomplicated to attempt on an average weeknight, when you're cooking for yourself."—Food52
Clarkson Potter, 9780451497017, 320pp.
Publication Date: October 22, 2019
About the Author
Alison Roman is a columnist for the New York Times Food section and Bon Appétit. She is the author of the bestselling Dining In, named a best cookbook of the year by NPR, the San Francisco Chronicle, and Epicurious, among others. A native of Los Angeles, Alison lives in Brooklyn.