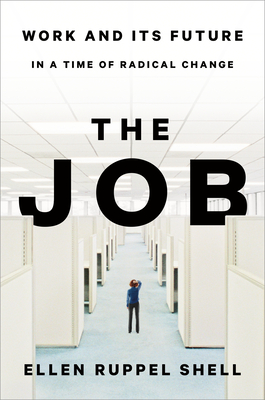 The Job
Work and Its Future in a Time of Radical Change
Hardcover

* Individual store prices may vary.
Description
Critically acclaimed journalist Ellen Ruppel Shell uncovers the true cost--political, economic, social, and personal--of America's mounting anxiety over jobs, and what we can do to regain control over our working lives.

Since 1973, our productivity has grown almost six times faster than our wages. Most of us rank so far below the top earners in the country that the "winners" might as well inhabit another planet. But work is about much more than earning a living. Work gives us our identity, and a sense of purpose and place in this world. And yet, work as we know it is under siege.

Through exhaustive reporting and keen analysis, The Job reveals the startling truths and unveils the pervasive myths that have colored our thinking on one of the most urgent issues of our day: how to build good work in a globalized and digitalized world where middle class jobs seem to be slipping away. Traveling from deep in Appalachia to the heart of the Midwestern rust belt, from a struggling custom clothing maker in Massachusetts to a thriving co-working center in Minnesota, she marshals evidence from a wide range of disciplines to show how our educational system, our politics, and our very sense of self have been held captive to and distorted by outdated notions of what it means to get and keep a good job. We read stories of sausage makers, firefighters, zookeepers, hospital cleaners; we hear from economists, computer scientists, psychologists, and historians. The book's four sections take us from the challenges we face in scoring a good job today to work's infinite possibilities in the future. Work, in all its richness, complexity, rewards and pain, is essential for people to flourish. Ellen Ruppel Shell paints a compelling portrait of where we stand today, and points to a promising and hopeful way forward.
Praise For The Job: Work and Its Future in a Time of Radical Change…
"Shell has gathered the kindling of true systemic change—social trust, collective ownership, experiments with universal basic income, the concern over alienation—and writes with compassion, heart, and verve."
-Harper's Magazine


"Through stories of jobs in places like the Brooklyn Navy Yard, a cooperatively owned laundromat in Cleveland and a small Finnish sausage factory, the author conjures fresh insights about work as a social institution whose value extends far beyond the dollar amount printed on a paycheck… [The book] directly challenges two nuggets of conventional wisdom that Ms. Shell scrutinizes harshly. First, 'follow your passion' is often terrible advice. For one thing, paying the bills with one's passion is typically implausible… Second, better education and more skills are not a cure-all: The data simply do not support the notion that more years of school necessarily translates into better jobs… Through it all, The Job remains ardently optimistic about the prospects for improving people's working lives regardless of whatever economic changes may come."
-The Wall Street Journal


"A sweeping, snappily written survey… [Shell] is a lively, engaging writer, with a gift for translating economic abstractions into plain English." 
-The Washington Post 


"The Job is such a fantastic, timely, thoroughly researched, balanced, and beautifully written book that I want everyone to read it.  And then I want to talk to everyone who reads it about their experiences with their jobs, and the jobs around them."
-Inside Higher Ed


"A sweeping study...According to Shell, Americans as a people must change their way of determining what constitutes a good job and even upend the concept of work as they know it. General readers will appreciate the breadth and scope of Shell's thoughtful, inquisitive work."
-Publisher's Weekly


"…Ellen Ruppel Shell has many strong views about the way people earn a living. Accordingly, her new book, The Job: Work and Its Future in a Time of Radical Change, weighs in on the nature of work, its future, its purpose, its meaning, how people prepare for it, government assistance to the poor, unions, income inequality in the United States, and much more. Shell is an engaging writer… and is a keen observer of higher education. She relays creative ideas about the future of workers' organizations in the United States, as well—all useful and meritorious."
-The American Interest


"Readers of Barbara Ehrenreich on one hand and Paul Krugman on the other will find good grist for the mill in Shell's book."
-Kirkus Reviews


"A masterful book about the fundamental role of work in our lives: why it matters, why it's broken, and how we can fix it."
-Adam Grant, New York Times bestselling author of GIVE AND TAKE, ORIGINALS, and OPTION B with Sheryl Sandberg


"A beautifully written, meticulously researched book on one of the most significant challenges of our era: the transformation of the nature of work. Ellen Ruppel Shell moves seamlessly between individual stories and academic scholarship to show how unprepared we are for the impact of digital technologies and new business models on our jobs. But this is far from a pessimistic account. Running through her account is also a hopefulness that our collective imagination and capacity for institutional innovation will prove up to the challenge eventually."
-Dr. Dani Rodrik, Ford Foundation Professor of International Political Economy at Harvard's Kennedy School, President Elect of the International Economic Association 
  

"The double whammy of the computer revolution and the rise of inequality is putting an end to the middle-class job as we know it--a huge problem that threatens the future of our society. In this superbly researched, thoughtful, and deeply humane book, Ellen Ruppel Shell both demonstrates how close we are to social catastrophe--and how we might pull ourselves back from the brink.  A tightly argued, beautifully written, compelling study of an issue that does not get nearly enough attention.  I closed this very good book about a very alarming problem with a pronounced, and unexpected, sense of hope."
-Charles C. Mann, Internationally Best Selling Author of 1491, 1493, and The Wizard and the Prophet  


"This book is glorious!  Ellen Ruppel Shell has given us a wonderful meditation on work and where it is going.  What is more, she makes a deeply compelling case for how and where and why we must all pay attention."
-Amy Wrzesniewski, Professor of Organizational Management, Yale School of Management


"Ellen Ruppel Shell uses her extraordinary narrative skills and vision to explore the importance of work in our lives, not simply as a way to make money, but also as a way to achieve purpose and belonging. She convincingly shows how a range of forces such as technological innovation, global competition and institutional changes are increasingly undermining the ability of many workers to find work that that can play these roles.  As an economist who has studied these forces with a focus on income and wealth, this book has opened my eyes to the far broader implications of the issues I am dealing with.  Read this book. You will never think about jobs in the same way again."  
-Dr. Robert Lawrence, Albert L. Williams Professor of International Trade and Investment, Harvard Kennedy School


"At once deeply researched and richly imaginative, Ellen Ruppel Shell's marvelous new book follows her quest to discover brave new worlds, where people create good work for themselves rather than just filling jobs. Compelling, and with sometimes heartrending detail, her explorations provide a deeply insightful map of the present and an uplifting and realistic compass for the future." 
-Dr. Rosalind Williams, Dibner Professor of the History of Science and Technology at MIT and author of The Triumph of Human Empire 


Currency, 9780451497253, 416pp.
Publication Date: October 23, 2018
About the Author
Ellen Ruppel Shell, a correspondent for The Atlantic, co-directs the Graduate Program in Science Journalism at Boston University. She has written for the New York Times, the Washington Post, The Guardian, The Smithsonian, Slate, the Los Angeles Times, The Boston Globe, O, Scientific American, and Science Magazine. She is the author of Cheap: The High Cost of Discount Culture, The Hungry Gene, and A Child's Place. She lives in the Boston metropolitan area.
or
Not Currently Available for Direct Purchase