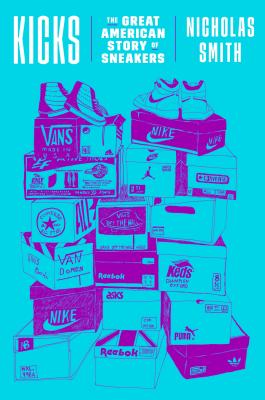 Kicks
The Great American Story of Sneakers
Hardcover

* Individual store prices may vary.
Other Editions of This Title:
Digital Audiobook (4/30/2018)
Description
A cultural history of sneakers, tracing the footprint of one of our most iconic fashions across sports, business, pop culture, and American identity

When the athletic shoe graduated from the beaches and croquet courts of the wealthy elite to streetwear ubiquity, its journey through the heart of American life was just getting started. In this rollicking narrative, Nicholas K. Smith carries us through the long twentieth century as sneakers became the totem of subcultures from California skateboarders to New York rappers, the cause of gang violence and riots, the heart of a global economic controversy, the lynchpin in a quest to turn big sports into big business, and the muse of high fashion. Studded with larger-than-life mavericks and unexpected visionaries—from genius rubber inventor, Charles Goodyear, to road-warrior huckster Chuck Taylor, to the feuding brothers who founded Adidas and Puma, to the track coach who changed the sport by pouring rubber in his wife's waffle iron—Kicks introduces us to the sneaker's surprisingly influential, enduring, and evolving legacy.
Praise For Kicks: The Great American Story of Sneakers…
"Smith paints a vivid picture of how what we wear on our feet can tell us what it really means to be an American." —Vanity Fair

"Nicholas Smith...freez[es] iconic moments and zoom[s] in on the overlooked footwear....The story of sneakers is, as Smith's subtitle suggests, an American one: of humble origins and unapologetic success, of self-expression through consumerism and association with celebrity, of a product being put on a pedestal and a brand name serving as an artist's signature...Filled with interesting trivia." —Ash Carter, The New York Times Book Review

"Expansive, thorough and entertaining...a comprehensive look at how much the sneaker became a signature indicator of cool...Mr. Smith certainly doesn't provide the shoe-makers a pass for their business tactics...but for the most part, the author tracks (if you'll forgive the pun) the industry's history in a breezy, light way that owes more to fun historical anecdotes than to hard data, but benefits all the more from the approach." —Will Leitch, The Wall Street Journal

"A lively, engaging cultural history…Smith's tale teems with freebooting DIY tinkerers [and] traverses the sociocultural trend lines of our time....Fascinating." —The Oregonian

"No background (or interest, even) in footwear is required to enjoy this entertaining read….Readers of sports history, popular culture, and business will be fascinated by Smith's exciting, informative, and multifaceted narrative of the major roles the sneaker has played in U.S. branding, perceptions, and culture." —Booklist

"Smith follows his fascination, sprinting through the evolution of the planet's hippest, most popular footwear, a history that goes way beyond sports and into the streets of the youth culture....A cornucopia of factoids and fun asides bursting with a wealth of in-depth information on every aspect of sneakers, from their birth to their current and continuing explosive popularity." —Kirkus

"An offbeat history of the athletic shoe world with cameo biographies of those who built it, Kicks is a sneakerhead's dream….Fascinating." —Shelf Awareness

"A fast, smooth run through the social, financial and athletic history of the shoes that goosed the sports boom. New slogan: It's gotta be the book!"
—Robert Lipsyte, author of SportsWorld: An American Dreamland

"Kicks is a history of great, forgotten stories. I highly recommend that anyone who's into sneakers and the culture read it and add it to their library."
—Dee Wells, Obsessive Sneaker Disorder (www.OSDLive.com)
 
"A refreshing full-court run through two centuries via the sneakers we were inventing or wearing all along. From Daniel Webster to 'Damn, Daniel,' an entertaining account with something to say about culture, politics, and ankle support. An always fascinating book and easier to keep clean than Air Force 1's."
—Mark Chiusano, author of Marine Park
Crown, 9780451498113, 320pp.
Publication Date: May 1, 2018
About the Author
Nicholas K. Smith has worked as a reporter for the past ten years, covering a range of topics including stolen WWII art, melting glaciers, Austrian indie gamers, and the New York City mayoral election. He is a 2014 graduate of the Columbia School of Journalism, where he was awarded the Lynton Fellowship in Book Writing. A native of Arizona, Nick now lives in Vienna, Austria with his wife and two children. www.nicholasksmith.com, @nicholasksmith
or
Not Currently Available for Direct Purchase