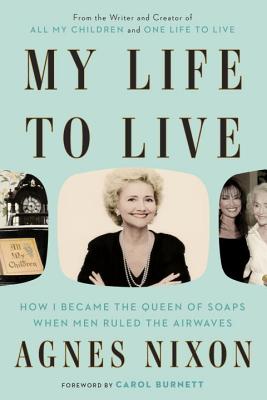 My Life to Live (Hardcover)
How I Became the Queen of Soaps When Men Ruled the Airwaves
Crown Archetype, 9780451498236, 288pp.
Publication Date: March 21, 2017
* Individual store prices may vary.
Description
From the Emmy-winning creator and writer of All My Children and One Life to Live, a memoir of her trailblazing rise to the top of the television industry, including behind-the-scenes stories from some of the most beloved soaps of all time.
 
Before there was Erica Kane, Adam Chandler, or Victoria Lord, there was Agnes Nixon, a young girl who dreamed up stories for paper dolls. Those tales she imagined--ones filled with ambitions, rivalries, and romances--would soon parallel her own path to success. In a memoir filled with as much drama as the soaps she penned, Nixon shares her journey from Nashville to New York City, as she overcomes the loss of her fiancé in World War II, a father intent on crushing her writing dreams, and the jealousy of her male colleagues on her way to becoming one of the most successful names in television.

While fans will delight in Nixon's own incredible life, they will also love her behind-the-scenes insight into her most popular shows. Inside, she shares the inspiration for Erica Kane and how she cast Susan Lucci in the role; an excerpt from the never-before-seen All My Children story bible; entertaining anecdotes about her shows' beloved casts and special guests, including Carol Burnett, Kelly Ripa, Oprah Winfrey, and Warren Buffett; and more.

But My Life to Live is also a portrait of a pioneer. Driven to use her ratings power for good, Nixon fought and broke network taboos by wrestling with controversial social issues ranging from women's health, interracial relationships, and the Vietnam War to drug addiction, LGBT rights, and AIDS. By infusing her characters with sensitivity, humor, and humanity, she enabled millions to examine an opposite point of view. And long before Shonda Rhimes launched a golden age of female showrunners, Agnes Nixon positioned ABC to become the media giant it is today.

She is a true television legend, and her candid and inspiring glimpse behind the curtain of the television industry will charm soap fans and story lovers alike.
About the Author
Agnes Nixon was a writer and producer, best known for creating the Emmy Award–winning soap operas All My Children, One Life to Live, and Loving. In 1981, Nixon received the rarely presented Trustees Award from the Academy of Television Arts and Sciences, becoming the first writer and first woman to be honored. A member of the Television Hall of Fame, Nixon was also the first female writer to join the Soap Opera Hall of Fame, and in 2010, she received the Lifetime Achievement Award from the Academy of Television Arts and Sciences.
Praise For My Life to Live: How I Became the Queen of Soaps When Men Ruled the Airwaves…
"I owe my career to Agnes Nixon, who was not only a brilliant creator and writer, but also my friend. My Life to Live is full of wonderful, evocative stories from her life and career that even I hadn't heard. And in typical Agnes fashion, her storytelling is full of humanity, social relevance and delicious humor! I know that her legions of fans will treasure it as much as I do."
—Susan Lucci

"Aggie Nixon is the only person I've ever known whom I didn't say awful things about. And much to my dismay, her memoir did nothing to change that. Unforgivable."
—Larry David

"[Agnes's] career wasn't easy to come by…. We know she won, but the story of her ups and downs make this book a true page-turner."
—Carol Burnett, from the foreword

"A meaty and fascinating look into the private and professional world of the beloved television pioneer."
—Soap Opera Digest

"A must-read for every soap opera fan!"
—ABC Soaps in Depth

"In her heartfelt book, [Nixon] opened up about…the lessons she learned about working outside the home from the women in her family.…While telling socially relevant stories on All My Children, Nixon also infused glamour, adventure and a lot of romance."
—ABC.com

""[An] engaging memoir…Not only does it provide all manner of detail about characters and incidents over those tumultuous years, but it shows the determination to make a difference which was her abiding motivation."
—Martin Rubin, Washington Times
or
Not Currently Available for Direct Purchase