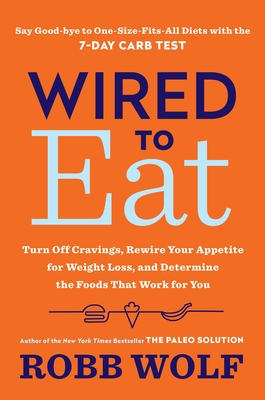 Wired to Eat
Turn Off Cravings, Rewire Your Appetite for Weight Loss, and Determine the Foods That Work for You
Hardcover

* Individual store prices may vary.
Other Editions of This Title:
Digital Audiobook (3/27/2017)
Paperback (9/17/2019)
Description
NEW YORK TIMES BESTSELLER • Reset your metabolism for lasting fat loss in one month and discover the carbs that are right for you.
 
The surprising truth is that we are genetically wired to eat more and move less, the exact opposite of the advice we are often given. Now there is a more customized weight loss solution that works with your body, a solution based not on arbitrary restriction of foods but on what works for YOU. Developed by former research biochemist, health expert, and bestselling author Robb Wolf, Wired to Eat offers an eating program, based on groundbreaking research, that will rewire your appetite for weight loss and help you finally determine the optimal foods for your diet and metabolism.

With his bestselling book, The Paleo Solution, Robb Wolf helped hundreds of thousands of people lose weight by eating a low-carb Paleo diet, but Paleo is only a starting point, not a destination. Now, he'll share a more customized way of eating that may be the key to permanent weight loss and better health. You'll start with Wolf's 30-Day Reset to help you restore your body's blood sugar levels, repair your appetite, and reverse insulin resistance. There are more than 70 delicious recipes, detailed meal plans, and shopping lists to aid you on your journey. Wolf also includes meal plans for people who suffer with autoimmune diseases, as well as advice on eating a ketogenic diet. Once you've completed this phase of the plan, the unique 7-Day Carb Test will help you determine what amounts and types of carbs you can tolerate. 

No more guessing. Now you can find out for yourself which foods you can and cannot eat, instead of relying on a one-size-fits all diet. Transform your diet by discovering your peronalized weight loss blueprint with Wired to Eat.
Praise For Wired to Eat: Turn Off Cravings, Rewire Your Appetite for Weight Loss, and Determine the Foods That Work for You…
"You're not crazy, weak, or lacking willpower... it's the food! Wired to Eat digs into the science to show you how the "healthy" foods you've been eating are keeping you sick, tired, and overweight, and provides an effective, easy-to-follow action plan to help you look, feel, and live your best."
—Melissa Hartwig, New York Times best-selling author and Whole30 co-founder
 
"Wired to Eat goes way beyond looking at food from a nutritional perspective. Robb Wolf reveals how food serves as information, actually influencing the expression of our DNA….an incredibly user-friendly program that's in line with the most leading-edge research available.  A landmark guide for regaining and maintaining health." 
—David Perlmutter, MD, author of #1 New York Times bestseller, Grain Brain, and The Grain Brain Whole Life Plan
 
"Wired to Eat is a scientifically sound and very easy-to-understand road map to optimal health. Robb Wolf presents clear, concise tools and strategies you can use to lose weight, control blood sugar and inflammation, and customize your diet. I highly recommend this groundbreaking program for anyone who has struggled with weight or health issues or who simply wants to get to the next level of well-being."
—Mark Sisson, author of The Primal Blueprint and publisher of MarksDailyApple.com
 
"Wired to Eat offers a cutting edge view that goes way beyond paleo and proves that resetting your metabolism is not about which foods you eat, it's about how your body responds to those foods. Robb Wolf offers readers an easy to follow, personal solution of how they can work with their bodies to finally find the foods that are right for them in order to achieve the optimal health they desire."
—Amy Myers, MD, New York Times bestselling author of The Thyroid Connection and The Autoimmune Solution
Harmony, 9780451498564, 400pp.
Publication Date: March 21, 2017
About the Author
Robb Wolf is a former research biochemist, health expert, and author of the New York Times bestselling The Paleo Solution. He has been a review editor for the Journal of Nutrition and Metabolism and Journal of Evolutionary Health; serves on the board of directors of Specialty Health medical clinic in Reno, Nevada and is a consultant for the Naval Special Warfare Resiliency program. Robb is also a former California State Powerlifting champion and holds the rank of blue belt in Brasilian Jiujitsu.
or
Not Currently Available for Direct Purchase