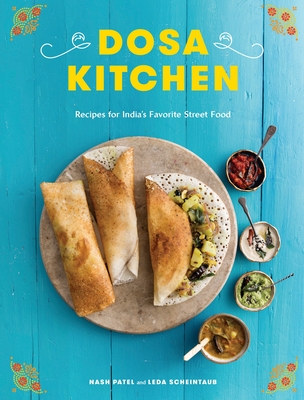 Dosa Kitchen
Recipes for India's Favorite Street Food: A Cookbook
Hardcover

* Individual store prices may vary.
Description
Dosas, a popular Indian street food, are thin, rice- and lentil-based pancakes that can be stuffed with or dipped into a variety of flavorful fillings. Dosa Kitchen shows you how to make this favorite comfort food at home with a master batter, plus 50 recipes for fillings, chutneys, and even cocktails to serve alongside. Dosas are endlessly adaptable to all tastes and dietary restrictions: naturally fermented and gluten-free, they are easy to make vegetarian, vegan, and dairy-free as well. With dishes featuring traditional Indian flavors, like Masala Dosa and Pork Vindaloo Dosa, as well as creative twists, like the Dosa Dog and the Cream Cheese, Lox, and Caper Dosa Wrap, any kitchen can become Dosa Kitchen!
Praise For Dosa Kitchen: Recipes for India's Favorite Street Food: A Cookbook…
Notable Press & Accolades: 
Best Cookbooks and Food Books of 2018 —Huffington Post


"No matter what toppings you start with, you'll no doubt find ever more ways to enjoy dosas." —The Daily Beast



"Thanks to Nash Patel and Leda Scheintaub's Dosa Kitchen, my customers have learned how fun and easy it is to add this healthy fermented food to their cooking. We had such great feedback from the authors' dosa demonstration at a recent Bouley Events Fermentation Symposium. Hearing that people are using their own creativity to personalize what they've learned is the mark of success of a chef and a cookbook!"
—Chef David Bouley
"If you, like me, love dosas, this is an essential book for your kitchen. The inventive recipes breathe new life into this popular Indian street food. It will make a wonderful gift for the cooks in your life." —Thrity Umrigar, author of The Space Between Us

"Dosa Kitchen proves that an everyday South Indian staple can easily become a part of world cuisine. Nash Patel and Leda Scheintaub invite us to think outside the box—we can make a dosa savory or sweet, serve it as a wrap or a pancake, and entertain with it. There are recipes for vegans and carnivores alike. The clarity and simplicity of the recipes, the photography, and the format of the book make Dosa Kitchen so accessible and motivating. We all could use more of healthy and delicious dosas in our life. Soak your lentils and rice right now!" —Divya Alter, author of What to Eat for How You Feel and owner of Divya's Kitchen

"It's not often that a cookbook comes along that introduces something completely new to Western palates—Dosa Kitchen is such a book. Hats off to Patel and Scheintaub for their gift to the food world of so many interesting and inspiring recipes. A wonderful way to enjoy gluten-free, properly prepared crepes and pancakes." —Sally Fallon Morell, president of the Weston A. Price Foundation
 
"What better vehicle for 'clean food' than a fermented, gluten-free, delicious dosa! Dosa Kitchen is an inspiring explosion of taste and color sure to make dosas one of your favorite meals." —Terry Walters, author of the bestselling Clean Food
 
"Dosas are one of the world's great fermented foods, turning some of the humblest ingredients—rice and lentils—into an incredibly versatile delicacy. This book has clear instructions and practical tips for making your own dosas at home, and great ideas for how to serve them. I've been making dosas occasionally for decades, but following Leda and Nash's guidance has vastly improved them, and now I make dosas all the time." —Sandor Ellix Katz, author of Wild Fermentation and The Art of Fermentation
 
"It's a joy to journey with Leda and Nash as they showcase their favorite dishes from their combined culinary worlds. The recipes are trustworthy, and the writing is a delight. Yes! to India's favorite street food in your own kitchen." —Rebecca Wood, author of The New Whole Foods Encyclopedia

"It's been long overdue but Nash and Leda have written the perfect ode to the dosa. Using their own unique sense for combining flavors they've remarkably showcased the vibrant and diverse possibilities that this fermented crepe possesses and how it can easily be made a staple in everyone's kitchens." —Nik Sharma, author of Season: Big Flavors, Beautiful Food, food writer and photographer of A Brown Table, and columnist for the San Francisco Chronicle

"Nash Patel and Leda Scheintaub have put together a unique cookbook featuring one of the world's most delicious and healthy foods, the dosa. The book has not only clearly written recipes but also gorgeous photos! I worked closely with Leda on my own book, so I know the skill, precision, and care that has been taken in the creation of the recipes. Whether you are already a fan of dosas or new to them, this is a book that belongs in your kitchen." —Laila Ali, cookbook author, TV host, and boxing champion
Clarkson Potter, 9780451499103, 144pp.
Publication Date: June 5, 2018
About the Author
Nash Patel is the co-owner and chef of Dosa Kitchen, a food truck in Brattleboro, VT. He was born to an Anglo-Indian family in the southern Indian city of Hyderabad.

Leda Scheintaub is the co-owner of Dosa Kitchen. She trained as a chef at the Natural Gourmet Institute in New York and is a recipe tester, editor, and writer. She is the author of Cultured Foods for Your Kitchen, and has contributed to many other titles.
or
Not Currently Available for Direct Purchase