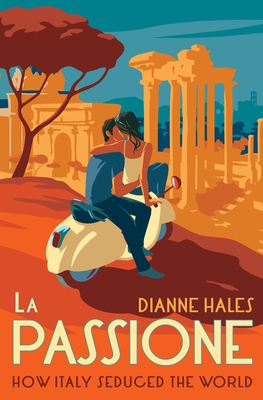 La Passione
How Italy Seduced the World
Hardcover

* Individual store prices may vary.
Other Editions of This Title:
Digital Audiobook (4/15/2019)
Description
A jubilant celebration of Italy's outsize impact on culture, from literature to art, music to movies, that "masterfully examines the multitude of reasons why so many people fall in love with Italy and the Italian lifestyle" (Forbes)

Can you imagine painting without Leonardo, opera without Verdi, fashion without Armani, food without the signature tastes of pasta, gelato, and pizza? The first universities, first banks, first public libraries? All Italian.

New York Times bestselling author Dianne Hales attributes these landmark achievements to la passione italiana, a primal force that stems from an insatiable hunger to discover and create; to love and live with every fiber of one's being. This fierce drive, millennia in the making, blazes to life in the Sistine Chapel, surges through a Puccini aria, deepens a vintage Brunello, and rumbles in a gleaming Ferrari engine.

Our ideal tour guide, Hales sweeps readers along on her adventurous quest for the secrets of la passione. She swims in the playgrounds of mythic gods, shadows artisanal makers of chocolate and cheese, joins in Sicily's Holy Week traditions, celebrates a neighborhood Carnevale in Venice, and explores pagan temples, vineyards, silk mills, movie sets, crafts studios, and fashion salons. She introduces us, through sumptuous prose, to unforgettable Italians, historical and contemporary, all brimming with the greatest of Italian passions—for life itself.

A lyrical portrait of a spirit as well as a nation, La Passione appeals to the Italian in all our souls, inspiring us to be as daring as Italy's gladiators, as eloquent as its poets, as alluring as its beauties, and as irresistible as its lovers.

Praise for La Passione

"[An] effervescent love letter to all things Italian."—Newsday

"In this sweeping account of la passione italiana from ancient to modern times, Dianne Hales shows once again why she is one the world's foremost guides to the riches of Italian culture. Every page resonates with the author's love for Italy and her joy in sharing its remarkable discoveries and exquisite pleasures with her readers." —Joseph Luzzi, author of My Two Italies and In a Dark Wood

"Hales takes us on an enriching and delightful journey, filled with fascinating characters, scintillating sensual details, and an authentic connection to the ever-inspiring Italian heart and soul that has given the world boundless pleasures." —Susan Van Allen, author of 100 Places in Italy Every Woman Should Go
Praise For La Passione: How Italy Seduced the World…
"What would we do without Italy and the treasures she has given to the world? Thank God we won't have to find out. Dianne Hales exquisitely reveals how the passion of Italians—ancient and modern, famous and anonymous, unwavering even in the most difficult of circumstances—has given birth to an explosion of art and innovation unlike any other culture. Hales captures the spirit of Italy and makes us more grateful than ever for its ardent creators. La Passione takes us on a journey that you simply won't want to end." —Kathy McCabe, host of Dream of Italy on PBS

"In this inquisitive celebration of the Italian spirit, Hales traverses the country, exploring its history and culture. . . . The chapters on food will delight readers. . . . Sure to inspire many vacations, this volume shows Italy's many contributions to the world and captures the essence of the very things that make it such a wondrous place." —Publishers Weekly

"[Hales's] love affair with Italy shines through as she recounts the histories of colorful characters who made their names through war, art, food, wine, music, and more. She brings the reader with her to experience the country's long-lasting traditions and the people whose dedication keeps that legacy alive today. . . . Frothy as a cappuccino and rich as tiramisu, La Passione is a delightful excursion into the heart of Italian culture." —Booklist

"Hales brings the sights and sounds of Italy to life with beautifully told stories of the passion that has permeated the country from its earliest recorded history to the present. . . . [She] successfully captures what it means to experience Italy and to be Italian, regardless of one's background. . . . Italophiles will relish the depth and breadth of this delightful book." —Library Journal


Crown Archetype, 9780451499165, 320pp.
Publication Date: April 16, 2019
About the Author
Dianne Hales is the author of La Passione; La Bella Lingua, a New York Times bestseller; Mona Lisa: A Life Discovered, translated into six languages; and more than forty trade and text books, including Just Like a Woman, Caring for the Mind and thirty editions of a leading college health textbook, An Invitation to Health. The President of Italy has awarded Dianne the highest recognition the government can bestow on a foreigner: honorary knighthood, with the title of Cavaliere dell'Ordine della Stella della Solidarietà Italiana (Knight of the Order of the Star of Italian Solidarity), for her contributions to promoting the Italian language.
or
Not Currently Available for Direct Purchase