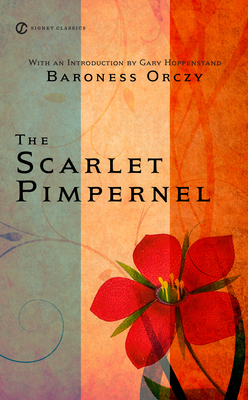 The Scarlet Pimpernel (Mass Market)
Signet, 9780451527622, 288pp.
Publication Date: May 1, 2000
* Individual store prices may vary.
Description
A timeless novel of adventure, intrigue, and romance is sparked by one man's defiance in the face of authority...

The year is 1792. The French Revolution, driven to excess by its own triumph, has turned into a reign of terror. Daily, tumbrels bearing new victims to the guillotine roll over the cobbled streets of Paris.… Thus the stage is set for one of the most enthralling novels of historical adventure ever written.
 
The mysterious figure known as the Scarlet Pimpernel, sworn to rescue helpless men, women, and children from their doom; his implacable foe, the French agent Chauvelin, relentlessly hunting him down; and lovely Marguerite Blakeney, a beautiful French exile married to an English lord and caught in a terrible conflict of loyalties—all play their parts in a suspenseful tale that ranges from the squalid slums of Paris to the aristocratic salons of London, from intrigue on a great English country estate to the final denouement on the cliffs of the French coast.
 
There have been many imitations of The Scarlet Pimpernel, but none has ever equaled its superb sense of color and drama and its irresistible gift of wonderfully romantic escape.

With an Introduction by Gary Hoppenstand
About the Author
The byline used by Emma Magdalena Rosalia Maria Josefa Barbara Orczy (1865-1947) was Baroness Orczy. Orczy was born in Tarna-Ors, Hungary, the only daughter of Baron Felix Orczy, a noted composer and conductor, and his wife, Emma. Orczy moved with her parents from Budapest to Brussels to Paris and then to London, where she learned to speak English at the age of fifteen. She was educated at West London School of Art. Orcy's first detective stories appeared in magazines, but as a writer, she gained fame in 1903 with the stage version of The Scarlet Pimpernel. In the late 1910s, Orcy and her husband moved to Monte Carlo, where they stayed during the Nazi occupation. Her husband died in 1943, and after World War II, she spent her remaining years in England.

Gary Hoppenstand is a professor who teaches in the Department of American Thought and Language at Michigan State University. He has published numerous books and articles on topics ranging from nineteenth-century British and American literature to film studies. He has been nominated twice for the World Fantasy Award, and he has won the Popular Culture Association's National Book Award for his textbook, Popular Fiction: An Anthology. He has worked on a Penguin Twentieth-Century Classics edition of P.C. Wren's Beau Geste and has published a Penguin Classics omnibus edition of Anthony Hope's two novels The Prisoner of Zenda and Rupert of Hentzau.
Praise For The Scarlet Pimpernel…
"Arguably the best adventure story ever published and certainly the most influential that appeared during the early decades of the twentieth century."—Gary Hoppenstand