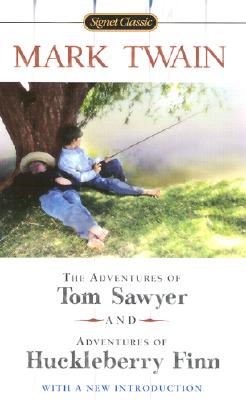 The Adventures of Tom Sawyer and Adventures of Huckleberry Finn
Mass Market Paperback

* Individual store prices may vary.
Other Editions of This Title:
Paperback (12/19/2018)
Paperback (9/20/2020)
Paperback (2/1/2014)
Paperback (3/23/2020)
Hardcover (3/25/2020)
Paperback (1/7/2021)
Paperback (1/1/2019)
Mass Market (7/2/2013)
Paperback (12/6/2019)
Paperback (4/19/2018)
Description
The Adventures of Tom Sawyer
Take a lighthearted, nostalgic trip to a simpler time, seen through the eyes of a very special boy named Tom Sawyer. It is a dreamlike summertime world of hooky and adventure, pranks and punishment, villains and young love, filled with memorable characters. Adults and young readers alike continue to enjoy this delightful classic of the promise and dreams of youth from one of America's most beloved authors.
Adventures of Huckleberry Finn
He has no mother, his father is a brutal drunkard, and he sleeps in a barrel. He's Huck Finn—liar, sometime thief, and rebel against respectability. But when Huck meets a runaway slave named Jim, his life changes forever. On their exciting flight down the Mississippi aboard a raft, the boy nobody wanted matures into a young man of courage and conviction. As Ernest Hemingway said of this glorious novel: "All modern American literature comes from one book by Mark Twain called Huckleberry Finn."
With a New Introduction

@declineofwesternsiv Seems like soon as a fella comes into a bit o' money, everyone comes out of the woodworks after'n it.

These ladies wants to sivilize me? More like reverse gold-dig my fame and fortune. @FencinTom: Get me outta here!

From Twitterature: The World's Greatest Books in Twenty Tweets or Less
Signet Classics, 9780451528643, 544pp.
Publication Date: December 3, 2002
About the Author
Mark Twain was born Samuel Langhorne Clemens in Florida, Missouri, in 1835, and died at Redding, Connecticut in 1910. In his person and in his pursuits he was a man of extraordinary contrasts. Although he left school at twelve when his father died, he was eventually awarded honorary degrees from Yale University, the University of Missouri, and Oxford University. His career encompassed such varied occupations as printer, Mississippi riverboat pilot, journalist, travel writer, and publisher. He made fortunes from his writing but toward the end of his life he had to resort to lecture tours to pay his debts. He was hot-tempered, profane, and sentimental--and also pessimistic, cynical, and tortured by self-doubt. His nostalgia helped produce some of his best books. He lives in American letters as a great artist, the writer whom William Dean Howells called "the Lincoln of our literature."
or
Not Currently Available for Direct Purchase