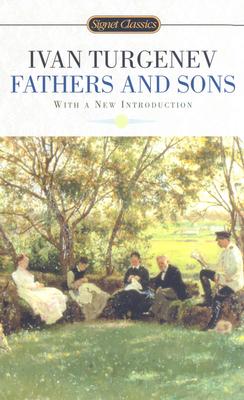 Fathers and Sons: 150th Anniversary Edition (Mass Market Paperbound)
150th Anniversary Edition
Signet Book, 9780451529695, 256pp.
Publication Date: February 1, 2005
* Individual store prices may vary.
or
Not Currently Available for Direct Purchase
Description
Bazarov--a gifted, impatient, and caustic young man--has journeyed from school to the home of his friend Arkady Kirsanov. But soon Bazarov's outspoken rejection of authority and social conventions touches off quarrels, misunderstandings, and romantic entanglements that will utterly transform the Kirsanov household and reflect the changes taking place all across nineteenth-century Russia.
Fathers and Sons
enraged the old and the young, reactionaries, romantics, and radicals alike when it was first published. At the same time, Turgenev won the acclaim of Flaubert, Maupassant, and Henry James for his craftsmanship as a writer and his psychological insight.
Fathers and Sons
is now considered one of the world's greatest novels.
A timeless depiction of generational conflict during social upheaval, it vividly portrays the clash between the older Russian aristocracy and the youthful radicalism that foreshadowed the revolution to come--and offers modern-day readers much to reflect upon as they look around at their own tumultuous, changing world.
Introduction by Jane Costlow
About the Author
Ivan Sergeyevich Turgenev was born in Orel in 1818 and was educated at the universities of Moscow and St. Petersburg. In 1839 he went to study at the University of Berlin, where he acquired the Western values for which he was much criticized in Russia throughout his life. His relationship with the opera singer Pauline Viardot caused his tyrannical mother to cut off his funds, and he lived as a Bohemian until her death in 1850 made him a rich man. His first successful novel, A Sportsman's Sketches (1852), was a sympathetic picture of Russian peasants and a condemnation of serfdom; it was widely believed to have contributed to the Tsar's decision to emancipate the serfs, much as Uncle Tom's Cabin was said to influence the emancipation of the American slaves. In the following productive decade, Turgenev published Rudin (1856), A Nest of Gentlefolk (1858), On the Eve (1860), First Love (1860), and Fathers and Sons (1862)--all of which drew critics' applause. His liberal views were politically suspect, however, and he chose to live the rest of his life in France. His novels Smoke (1867) and Virgin Soil (1877) show the depth of his bitterness, but his last visit to Russia in 1880 marked a triumphant homecoming. He died in 1883, at Bougival, near Paris. Jane Costlow is Professor of Russian at Bates College, where she holds the Christian A. Johnson Chair of Interdisciplinary Studies. She is the author of Worlds within Worlds: The Novels of Ivan Turgenev. She has also published on Russian women writers in the nineteenth century and on representations of gender and nature in classic Russian literature.
Advertisement