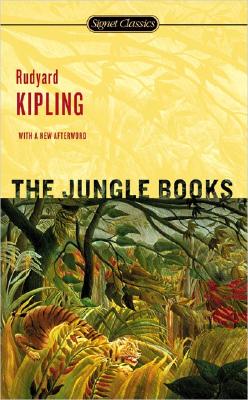 The Jungle Books (Mass Market Paperback)
Signet Classics, 9780451529756, 368pp.
Publication Date: May 3, 2005
Other Editions of This Title:
Paperback (12/15/2015)
Paperback (11/23/2015)
Paperback (6/11/2013)
Paperback (10/17/2018)
Paperback (5/22/2018)
Paperback (3/26/2018)
Paperback (11/3/2018)
Paperback (11/27/2019)
Paperback (10/16/2018)
Paperback (2/14/2014)
Paperback (12/20/2019)
Paperback (12/22/2019)
Paperback (12/2/2019)
Paperback (4/24/2017)
Hardcover (8/20/2015)
* Individual store prices may vary.
Description
The Jungle Books can be regarded as classic stories told by an adult to children. But they also constitute a complex literary work of art in which the whole of Kipling's philosophy of life is expressed in miniature. They are best known for the 'Mowgli' stories; the tale of a baby abandoned and brought up by wolves, educated in the ways and secrets of the jungle by Kaa the python, Baloo the bear, and Bagheera the black panther. The stories, a mixture of fantasy, myth, and magic, are underpinned by Kipling's abiding preoccupation with the theme of self-discovery, and the nature of the 'Law'.
About the Author
Rudyard Kipling was born in Bombay in 1865. During his time at the United Services College, he began to write poetry, privately publishing Schoolboy Lyrics in 1881. The following year he started work as a journalist in India, and while there produced a body of work, stories, sketches, and poems --including "Mandalay," "Gunga Din," and "Danny Deever"--which made him an instant literary celebrity when he returned to England in 1889. While living in Vermont with his wife, an American, Kipling wrote The Jungle Books, Just So Stories, and Kim--which became widely regarded as his greatest long work, putting him high among the chronicles of British expansion. Kipling returned to England in 1902, but he continued to travel widely and write, though he never enjoyed the literary esteem of his early years. In 1907, he became the first British writer to be awarded the Nobel Prize. He died in 1936
or
Not Currently Available for Direct Purchase