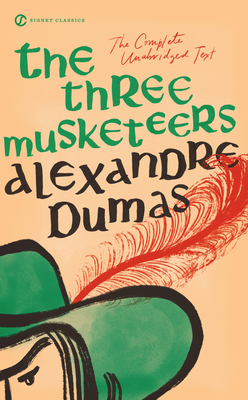 The Three Musketeers
Mass Market

* Individual store prices may vary.
Other Editions of This Title:
Paperback (12/17/2020)
Paperback (3/21/2018)
Paperback (6/9/2016)
Paperback (1/8/2021)
Paperback (9/18/2020)
Paperback (1/5/2021)
Paperback (5/22/2010)
Paperback (9/18/2020)
Paperback (9/8/2009)
Paperback (5/5/2020)
Paperback (2/21/2020)
Paperback (10/16/2018)
Paperback (10/5/2008)
Paperback (2/9/2018)
Paperback (9/25/2019)
Paperback (1/22/2021)
Hardcover (9/25/2019)
Description
The classic adventure from the author of The Count of Monte Cristo and The Man in the Iron Mask.

In this swashbuckling epic, d'Artagnan, not yet twenty, sets off for Paris in hopes of joining the Musketeers, that legion of heroes highly favored by King Louis XIII and feared by evil Cardinal Richelieu. By fighting alongside Athos, Porthos, and Aramis as they battle their enemies, d'Artagnan proves he has the heart of a Musketeer and earns himself a place in their ranks. Soon d'Artagnan and the gallant trio must use all their wits and sword skills to preserve the queen's honor and thwart the wicked schemes of Cardinal Richelieu. With this classic tale, Dumas embroiders upon history a colorful world of swordplay, intrigue, and romance, earning The Three Musketeers its reputation as one of the most thrilling adventure novels ever written.

An Unabridged Translation, Revised and Updated by Eleanor Hochman

With an Introduction by Thomas Flanagan
and an Afterword by Marcelle Clements
Praise For The Three Musketeers…
"The name Alexandre Dumas is more than French—it is universal."—Victor Hugo
Signet, 9780451530035, 672pp.
Publication Date: January 3, 2006
About the Author
Alexandre Dumas (1802–1870) was the author of more than a hundred plays and novels including the famous Three Musketeers trilogy (1844–47), The Count of Monte Cristo (1844–45), and The Man in the Iron Mask (1848–50). His grandfather was a nobleman who lived in the French colony of Santo Domingo (now Haiti), and his grandmother an Afro-Caribbean slave. Dumas's father, a celebrated general in Napoleon's army, eventually fell out of favor and then died when Alexandre was four years old, leaving his family in poverty. At the age of twenty-one, Dumas moved to Paris, where he enjoyed success first as a playwright and then as a prolific writer of both fiction and nonfiction. He took part in the uprising of July 1830, which placed his patron, Louis-Philippe, on the throne, and built his own imposing Château de Monte Cristo outside of Paris. But by 1851, his lavish lifestyle had bankrupted him, and he left France, fleeing both creditors and Louis-Napoleon Bonaparte, the new ruler who was no fan of Dumas. In the following decade, he made extended stays in Belgium, Russia, and Italy, where he joined the movement for its independence and unification. He died penniless but optimistic, saying of death, "I shall tell her a story, and she will be kind to me."

A scholar, critic, and novelist, Thomas Flanagan (1923–2002) was the author of The Irish Novelists, 1800–1850 (1959), The Year of the French (1979), which won the National Book Critics Award, The Tenants of Time (1988), and The End of the Hunt (1994).

Marcelle Clements is a novelist and journalist who has contributed articles on culture, the arts, and politics to many national publications. She is the author of two books of nonfiction, The Dog Is Us and The Improvised Woman, and the novels Rock Me and Midsummer.