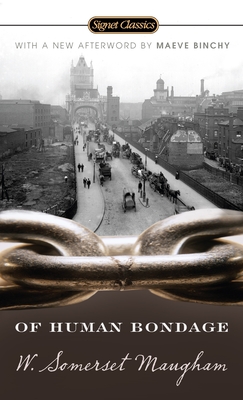 Of Human Bondage
Mass Market

* Individual store prices may vary.
Description
From a tormented orphan with a clubfoot, Philip Carey grows into an impressionable young man with a voracious appetite for adventure and knowledge. His cravings take him to Paris at age eighteen to try his hand at art, then back to London to study medicine. But even so, nothing can sate his nagging hunger for experience. Then he falls obsessively in love, embarking on a disastrous relationship that will change his life forever.…

Marked by countless similarities to Maugham's own life, his masterpiece is "not an autobiography," as the author himself once contended, "but an autobiographical novel; fact and fiction are inexorably mingled; the emotions are my own." And although he based Of Human Bondage on what he knew, his is an "excessively rare gift of storytelling...almost the equal of imagination itself."*

With an Introduction by Benjamin De Mott and an Afterword by Maeve Binchy

*The Sunday Times (London)
Praise For Of Human Bondage…
"The modern writer who has influenced me the most."—George Orwell
"One of my favorite writers."—Gabriel García Marquez
Signet, 9780451530172, 704pp.
Publication Date: January 2, 2007
About the Author
William Somerset Maugham
(1874–1965) studied medicine, but the quick success of his first novel,
Liza of Lambeth
(1897), started him on his lifelong literary career, during which he would become one of the most popular English authors since Dickens. His own life, however, was more tragic, shocking, and fascinating than any novel. After his adored parents died, he grew up in a miserable vicarage and suffered from a physical handicap of which he was ashamed. During his lifetime, Maugham would marry and divorce, be sent to Russia as a spy, and entertain such celebrities as Jean Cocteau, Winston Churchill, Noël Coward, the Aga Khan, and Ian Fleming at his Riviera mansion. Among his masterpieces are
Of Human Bondage
,
The Painted Veil
,
The Razor's Edge
, and
The Moon and Sixpence
. In addition, such works as "The Letter" and "Rain" established Maugham as a gifted short story writer.
Benjamin DeMott
(1924–2005) was professor of English and the Mellon professor of humanities at Amherst College. The author of two novels, he was best known for his cultural criticism in leading periodicals and in such books as
The Imperial Middle: Why Americans Can't Think Straight About Class
and
The Trouble with Friendship: Why Americans Can't Think Straight About Race
.
Maeve Binchy
(1940–2012) was the
New York Times
bestselling author of
Quentins
,
Scarlet Feather
,
Tara Road
(an Oprah's Book Club Selection),
Circle of Friends
,
Light a Penny Candle
, and many other novels.