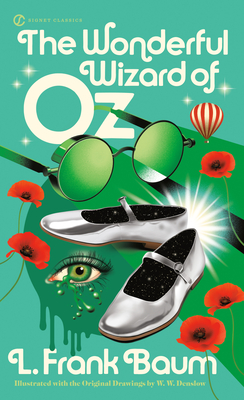 The Wonderful Wizard of Oz (Mass Market)
Signet, 9780451530295, 240pp.
Publication Date: October 3, 2006
Other Editions of This Title:
Paperback (11/11/2017)
Paperback (12/19/2016)
Paperback, Large Print (12/1/2005)
Paperback (3/19/2017)
Paperback (12/19/2011)
Paperback (12/17/2013)
Paperback (12/5/2011)
Paperback (5/29/2013)
Paperback (3/2/2015)
Paperback (7/16/2019)
Paperback (10/20/2015)
Paperback (4/30/2015)
Paperback (2/28/2013)
Paperback (12/25/2017)
Paperback (1/30/2013)
Paperback (2/26/2012)
Paperback (10/19/2015)
Paperback (11/2/2016)
* Individual store prices may vary.
Description
THE INSPIRATION FOR THE CLASIC FILM

"Follow the yellow brick road!"

Since it first appeared in 1900, The Wonderful Wizard of Oz has brought joy to generations. In it, a girl's dream world comes to life as the cyclone lifts Dorothy from Kansas, depositing her in the enchanted land of the Munchkins. H ere she meets the famous Oz characters: the Scarecrow, the Tin Woodsman, the Cowardly Lion, and the Wicked Witch of the West. Her adventures along the Yellow Brick Road to the Emerald City and the Wizard himself evoke the rich, universal appeal of a classic fairy tale.
About the Author
Born in 1856, in Chittenango, New York, L. Frank Baum is best remembered for his monumental 1900 classic The Wonderful Wizard of Oz. He returned frequently to the magical world he'd created, writing 13 books set in Oz. His considerable literary output included 55 novels, 83 short stories, over 200 poems, and many miscellaneous writings, including scripts and "lost" novels. He passed away in 1919.

Regina Barreca is a professor of English and feminist theory at the University of Connecticut. She is the editor of seven books, including The Penguin Book of Women's Humor, and the author of four others. She writes frequently for the New York Times, Chicago Tribune, and Hartford Courant.
Praise For The Wonderful Wizard of Oz…
"Baum was a true educator, and those who read his Oz books are often made what they were not—imaginative,
tolerant, alert to wonders, life."—Gore Vidal