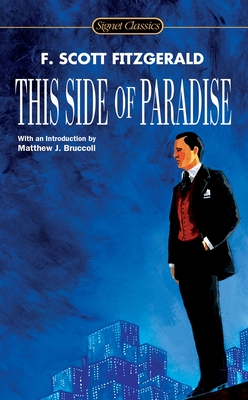 This Side of Paradise (Mass Market Paperbound)
Signet Classics, 9780451530349, 270pp.
Publication Date: November 7, 2006
Description
THE ACCOMPLISHED AND HEARTBREAKING FIRST NOVEL THAT CATAPULTED F. SCOTT FITZGERALD TO LITERARY FAME AT THE AGE OF TWENTY-THREE Considered scandalous (and brilliant) when it was published in 1920, This Side of Paradise describes the intellectual, spiritual, and sexual education of young Amory Blaine in the tumultuous America of the early twentieth century. Highly sophisticated yet hopelessly romantic, Amory flounders from prep school to Princeton to glittering Jazz Age New York, confident that he is destined for greatness but unsure how to go about it. Fitzgerald's razor-sharp re-creation of a defiant, disillusioned generation "grown up to find all Gods dead, all wars fought, all faiths in man shaken" makes This Side of Paradise a timeless autobiographical novel of youth and alienation. It moves from tenderness to cynicism to hope with the grace and power that make Fitzgerald one of the greatest of American writers. NOW INCLUDING THE AUTHOR'S CORRECTED TEXT With an Introduction by Matthew J. Bruccoli.
About the Author
F. Scott Fitzgerald (1896-1940) was born in St. Paul, Minnesota, and educated at the Newman School and at Princeton. This Side of Paradise, his first novel, was published in 1920 and transformed him virtually overnight into a spokesman for his generation and a prophet of the Jazz Age. That same year, he married Zelda Sayre, and the two became America's most celebrated expatriates, dividing their time between New York, Paris, and the Riviera during the twenties. Fitzgerald's most famous novel, The Great Gatsby, was published in 1925, and Tender Is the Night in 1934. After Scott and Zelda were forced by money and health problems to return to the United States, Fitzgerald became a writer for Hollywood movie studios. He died while working on his unfinished novel of Hollywood, The Last Tycoon. His other works include Flappers and Philosophers (1920), The Beautiful and Damned (1922), Tales of the Jazz Age (1922), All the Sad Young Men (1926), and Taps at Reveille (1935). The country's leading authority on F. Scott Fitzgerald for more than five decades, Matthew J. Bruccoli was born in the Bronx in 1931. He was Emily Brown Jefferies Distinguished Professor at the University of South Carolina and author or editor of more than fifty books, including the standard Fitzgerald biography, Some Sort of Epic Grandeur. Among his other subjects were Ernest Hemingway, John O'Hara, Thomas Wolfe, James Gould Cozzens, and Ross Macdonald, and he edited the letters and notebooks of Vladimir Nabokov. He died in 2008.
Advertisement