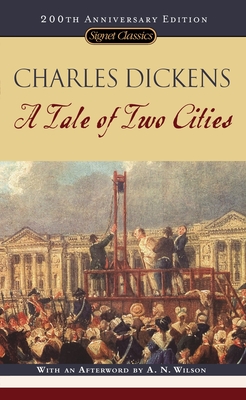 A Tale of Two Cities (Mass Market)
Signet, 9780451530578, 416pp.
Publication Date: February 6, 2007
* Individual store prices may vary.
Description
The French Revolution comes to vivid life in Charles Dickens's famous novel about the best of times and the worst of times...

The storming of the Bastille…the death carts with their doomed human cargo…the swift drop of the guillotine blade—this is the French Revolution that Charles Dickens vividly captures in his famous work A Tale of Two Cities. With dramatic eloquence, he brings to life a time of terror and treason, a starving people rising in frenzy and hate to overthrow a corrupt and decadent regime. With insight and compassion, Dickens casts his novel of unforgettable scenes with some memorable characters: the sinister Madame Defarge, knitting her patterns of death; the gentle Lucie Manette, unswerving in her devotion to her broken father; Charles Darnay, the lover with a secret past; and dissolute Sydney Carton, whose unlikely heroism gives his life meaning.

With an Introduction by Frederick Busch
and an Afterword by A. N. Wilson
About the Author
As a child, Charles Dickens (1812-70) came to know not only hunger and privation, but also the horror of the infamous debtors' prison and the evils of child labor. A surprise legacy brought release from the nightmare of prison and "slave" factories and afforded Dickens the opportunity of two years' formal schooling. He taught himself shorthand and worked as a parliamentary reporter until his writing career took off with the publication of Sketches by Boz (1836) and The Pickwick Papers (1837). As a novelist and magazine editor, Dickens had a long run of serialized success through Our Mutual Friend (1864-65). In later years, ill health slowed him down, but he continued his popular dramatic readings from his fiction to an adoring public, which included Queen Victoria. At his death, The Mystery of Edwin Drood remained unfinished.

Distinguished writer, teacher, and critic Frederick Busch was the author of more than twenty works of fiction, including North, Girls, and The Mutual Friend, a novel about Charles Dickens.

A. N. Wilson was born in 1950 and educated at Rugby and New College, Oxford. A Fellow of the Royal Society of Literature, he has held a prominent position in the world of literature and journalism. Among his acclaimed biographies are Lives of Sir Walter Scott (John Llewellyn Rhys Prize), Tolstoy (Whitbread Award for Biography), C.S. Lewis, Hilaire Belloc, and Iris Murdoch. The Victorians, his study of the Victorian Age, and its sequel, After the Victorians, were both published to widest critical acclaim, and he is the award-winning author of such novels as My Name Is Legion and The Healing Art.
Praise For A Tale of Two Cities…
"[A Tale of Two Cities] has the best of Dickens and the worst of Dickens: a dark, driven opening, and a celestial but melodramatic ending; a terrifyingly demonic villainess and (even by Dickens' standards) an impossibly angelic heroine. Though its version of the French Revolution is brutally simplified, its engagement with the immense moral themes of rebirth and terror, justice, and sacrifice gets right to the heart of the matter . . . For every reader in the past hundred and forty years and for hundreds to come, it is an unforgettable ride."—Simon Schama