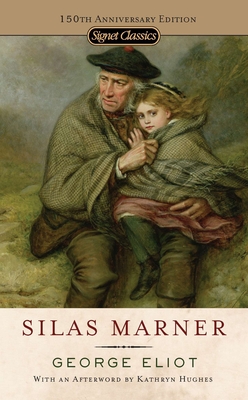 Silas Marner (Mass Market)
Signet, 9780451530622, 208pp.
Publication Date: August 7, 2007
Other Editions of This Title:
Digital Audiobook (1/3/2014)
Paperback (8/16/2018)
Paperback (10/4/2008)
Paperback (9/1/2004)
Paperback (1/24/2009)
Paperback (4/12/2009)
Paperback (10/26/2007)
Paperback (3/4/2014)
Paperback (5/15/2018)
Paperback (9/17/2012)
Paperback (11/19/2018)
Paperback (7/31/2018)
Paperback (8/31/2012)
Paperback (11/30/2008)
Paperback (5/26/1995)
Paperback (8/29/2019)
Paperback (2/2/2009)
* Individual store prices may vary.
Description
The classic novel of hope, redemption, and the indomitable human spirit, from beloved novelist George Eliot.

In this heartwarming classic by George Eliot, a gentle linen weaver named Silas Marner is wrongly accused of a heinous theft actually committed by his best friend. Exiling himself to the rustic village of Raveloe, he becomes a lonely recluse. Ultimately, Marner finds redemption and spiritual rebirth through his unselfish love for an abandoned child who mysteriously appears one day in his isolated cottage.
 
Somber, yet hopeful, Eliot's realistic depiction of an irretrievable past, tempered with the magical elements of myth and fairy tale, remains timeless in its understanding of human nature and has been beloved for generations.

With an Introduction by Frederick R. Karl
and an Afterword by Kathryn Hughes
About the Author
George Eliot (Mary Ann Evans Cross [1819-80]) received an ordinary education and, upon leaving school at the age of sixteen, embarked on a program of independent study to further her intellectual growth. In 1841, she moved to Coventry with her father, where the influence of "Skeptics and rationalists" swayed her from an intense religious devotion to an eventual break with the church. Her father's death in 1849 left her with a samll legacy and hte freedom to pursue her literary inclinations. In 1851, she became the assistatn editor of th Westminster Review, a position she held for three years. In 1854 came the fated meeting with George Henry Lewes, the gifted editor of The Leader, who was to become her adviser and companion fo rthe next twenty-four years. Her books include Scenes of Clerical Life (1857), Adam Bede (1859), The Mill on the Floss (1860), Silas Marner (1861), and Middlemarch (1871-1872).

Frederick R. Karl, Professor of English at New York University, wrote major biographies of writers including Franz Kafka: Representative Man and George Eliot: Voice of a Century. He was the editor of the Collected Letters of Joseph Conrad and the author of Art into Life: The Craft of Literary Biography.

Kathryn Hughes, a historian and critic, was educated at Oxford University and holds a PhD in Victorian History. Her biography of George Eliot won the James Tait Black Prize and her most recent book, The Short Life and Long Times of Mrs Beeton, was made into a feature film by the BBC. She is a critic on the Guardian newspaper and Visiting Professor at the University of Kingston.
Praise For Silas Marner…
"I think Silas Marner holds a higher place than any of the author's works. It is more nearly a masterpiece; it has more of that simple, rounded, consummate aspect. . .which marks a classical work."—Henry James