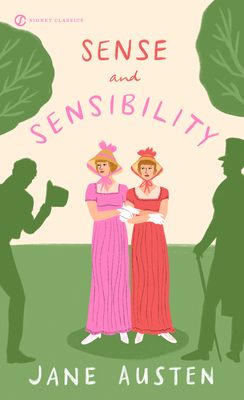 Sense and Sensibility (Mass Market)
Signet, 9780451531018, 336pp.
Publication Date: July 1, 2008
Other Editions of This Title:
Paperback (10/24/2013)
Paperback (7/10/2013)
Paperback (7/19/2015)
Paperback (10/11/2014)
Paperback (5/30/2010)
Paperback (11/28/2015)
Paperback (1/19/2015)
Paperback (8/29/2013)
Paperback (2/10/2012)
Paperback (3/17/2011)
Paperback (7/18/2015)
Paperback (9/22/2013)
Paperback (12/8/2015)
Paperback (3/1/2011)
Paperback (2/11/2009)
Paperback (9/1/2004)
Paperback (12/28/2013)
Paperback (12/15/2012)
Paperback, Large Print (12/22/2005)
Paperback (1/21/2015)
* Individual store prices may vary.
Description
Two sisters of opposing temperaments who share the pangs of tragic love provide the theme for Jane Austen's dramatically human narrative.

Elinor, practical and conventional, is the perfection of sense. Marianne, emotional and sentimental, is the embodiment of sensibility. To each comes the sorrow of unhappy love.
 
Their mutual suffering brings a closer understanding between the two sisters—and true love finally triumphs when sense gives way to sensibility and sensibility gives way to sense. Jane Austen's authentic representation of early-nineteenth-century middle-class provincial life, written with forceful insight and gentle irony, makes her novels the enduring works on the mores and manners of her time.

With an Introduction by Margaret Drabble
and an Afterword by Mary Balogh 
About the Author
Jane Austen (1775-1817) was born in Hampshire, England, to George Austen, a rector, and his wife, Cassandra. Like many girls of her day, she was educated at home, where she began her literary career by writing parodies and skits for the amusement of her large family. Although Austen did not marry, she did have several suitors and once accepted a marriage proposal, but only for an evening. Although Austen never lived apart from her family, her work shows a worldly and wise sensibility. Her novels include Sense and Sensibility (1811), Pride and Prejudice (1813), Mansfield Park (1814), Emma (1815), and Northanger Abbeyand Persuasion, published together posthumously in 1818. 

Margaret Drabble is the highly acclaimed novelist, biographer, and editor of The Oxford Companion to English Literature. Her novels include The Gates of Ivory,The Seven Sisters, and The Red Queen. 

Mary Balogh grew up in Wales and after graduating from University moved to Saskatchewan, Canada, to teach high school English. Her first Regency historical love story, A Masked Deception, was published in 1985. She has written more than seventy novels since then, including the New York Times bestselling Slightly sestet and Simply quartet.
Praise For Sense and Sensibility…
"As nearly flawless as any fiction could be."
—Eudora Welty