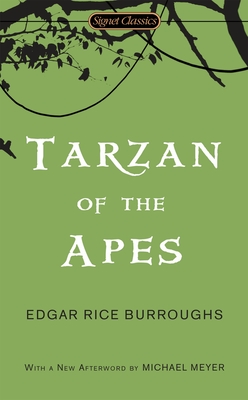 Tarzan of the Apes (Mass Market)
Signet, 9780451531025, 320pp.
Publication Date: August 5, 2008
Other Editions of This Title:
Digital Audiobook (5/2/2016)
Digital Audiobook (4/11/2012)
Digital Audiobook (6/26/2014)
Paperback (4/9/2019)
Paperback (6/28/2018)
Paperback (12/16/2018)
Paperback (8/5/2016)
Paperback (5/22/2017)
Paperback (7/23/2018)
Paperback (11/7/2014)
Paperback, Italian (5/16/2018)
Paperback (7/3/2003)
Paperback (4/26/2019)
Paperback (9/23/2018)
Paperback (8/4/2016)
Paperback (9/16/2017)
Paperback (3/14/2019)
* Individual store prices may vary.
Description
Experience the legend of Tarzan in this thrilling adventure from Edgar Rice Burroughs.

Set amid the vibrant colors and sounds of the African jungle, this classic work, rich in suspense and action, has beckoned generations of readers on a glorious journey to romance and pure adventure. This is the story of the ape-man Tarzan, raised in the wild by the great ape Kala, and how he learns the secrets of the jungle to survive—how to talk with the animals, swing through the trees, and fight the great predators. As Tarzan grows up, he makes many friends, including Tantor the elephant and Numa the lion. When this paradise is invaded by white men, Tarzan's life changes, for in this group is Jane, the most beautiful woman he has ever seen. Speaking directly to our childhood fantasies, this exhilarating work takes us to that faraway place in our minds where dreams prevail, and where we too can be masters of our own domain.

With an Introduction by Gore Vidal
And an Afterword by Michael Meyer
About the Author
After serving a short time in the Seventh U.S. Cavalry, Edgar Rice Burroughs (1875-1950) was a shopkeeper, gold miner, cowboy, and policeman before becoming a full-time writer. Tarzan of the Apes (1914) and its twenty-two sequels have sold more than twenty-five million copies in fifty-eight languages. Author of numerous other jungle and science fiction novels and novellas, including The Land That Time Forgot, Burroughs had a writing career that spanned almost thirty years, with his last novel, The Land of Terror, being published in 1941. He died in Tarzana, California, the town named for his legendary hero.

Gore Vidal was the author of numerous novels—the first, Williwaw, written when he was twenty-one—as well as scripts for film, television, and the stage, including the extremely successful The Best Man and Visit to Small Planet. He is perhaps best known for his historical novels, including Burr (1973), 1876 (1976), and Lincoln (1984). He won the National Book Award in 1993 for his book of essays United States (1952-1992).

Michael Meyer, Ph.D., is a professor of English at the University of Connecticut. Among his books, Several More Lives to Live: Thoreau's Political Reputation in America was awarded the Ralph Henry Gabriel Prize by the American Studies Association. In addition to The Bedford Introduction to Literature, his edited volumes include Frederick Douglass: The Narrative and Selected Writings.
Praise For Tarzan of the Apes…
"[Burroughs has] a gift very few writers of any kind possess: he can describe action vividly." —Gore Vidal