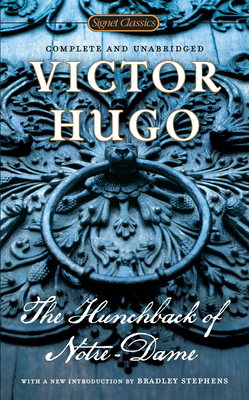 The Hunchback of Notre Dame
Mass Market

* Individual store prices may vary.
Other Editions of This Title:
Paperback (7/13/2017)
Paperback (11/8/2016)
Paperback (12/17/2017)
Paperback (9/23/2020)
Paperback (5/2/2015)
Paperback (4/21/2017)
Paperback (7/26/2017)
Paperback (3/3/2014)
Paperback (6/24/2020)
Paperback (1/6/2014)
Paperback (4/22/2016)
Paperback (2/8/2018)
Paperback (8/23/2017)
Hardcover (8/22/2015)
Hardcover (9/23/2020)
Paperback (11/1/2017)
Hardcover (8/12/2015)
Paperback (3/31/2021)
Hardcover (11/16/2015)
Description
The complete and unabridged translation of Victor Hugo's classic novel, The Hunchback of Notre Dame.

The setting of this extraordinary historical novel is medieval Paris: a city of vividly intermingled beauty and ugliness, surging with violent life under the two towers of its greatest structure and supreme symbol, the cathedral of Notre Dame.
 
Against this background, Victor Hugo unfolds the haunting drama of Quasimodo, the hunchback; Esmeralda, the gypsy dancer; and Claude Frollo, the priest tortured by the specter of his own damnation. Shaped by a profound sense of tragic irony, it is a work that gives full play to the author's brilliant imagination and his remarkable powers of description.

Translated By Walter J. Cobb
With an Introduction by Bradley Stephens
And an Afterword by Graham Robb
Signet, 9780451531513, 528pp.
Publication Date: March 2, 2010
About the Author
Born in 1802, the son of a high officer in Napoleon's army, Victor Hugo spent his childhood against a background of military life in Elba, Corsica, Naples, and Madrid. After the Napoleonic defeat, the Hugo family settled in straitened circumstances in Paris, where, at the age of fifteen, Victor Hugo commenced his literary career with a poem submitted to a contest sponsored by the Académie Française. Twenty-four years later, Hugo was elected to the Académie, having helped revolutionize French literature with his poems, plays, and novels. Entering politics, he won a seat in the National Assembly in 1848; but in 1851, he was forced to flee the country because of his opposition to Louis Napoleon. In exile on the Isle of Guernsey, he became a symbol of French resistance to tyranny; upon his return to Paris after the Revolution of 1870, he was greeted as a national hero. He continued to serve in public life and to write with unabated vigor until his death in 1885. He was buried in the Pantheon with every honor the French nation could bestow.