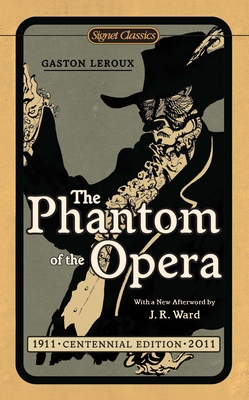 The Phantom of the Opera (Mass Market)
Signet, 9780451531872, 288pp.
Publication Date: October 5, 2010
Other Editions of This Title:
Paperback (3/30/2015)
Paperback (12/27/2015)
Paperback (9/1/2004)
Paperback (7/2/2016)
Paperback, Large Print (11/15/2006)
Paperback (1/31/2015)
Paperback (3/30/2014)
Paperback (3/30/2018)
Paperback (11/18/2018)
Paperback (4/8/2013)
Paperback (10/31/2018)
Paperback (1/15/2016)
Paperback (11/7/2011)
Paperback (1/27/2019)
Paperback (5/7/2015)
Paperback (4/23/2012)
Paperback (10/22/2015)
Paperback (2/6/2013)
* Individual store prices may vary.
Description
Filled with the spectacle of the Paris Opera House in the nineteenth century, this classic work of suspense remains a riveting journey into the dark regions of the human heart.

The tale begins as an investigation into the strange stories of an "Opera ghost," legendary for scaring performers as they sit alone in their dressing rooms or walk along the building's labyrinthine corridors. Some even think they've seen the ghost in evening clothes moving in the shadows. But it isn't until the triumphant performance of beautiful soprano Christine Daaé that the Phantom begins his attacks—striking terror in the hearts of everyone in the theater. A story that has captured the imagination for a century, The Phantom of the Opera continues to this day as an unparalleled work of sheer entertainment.
 
With an Introduction by Dr. John L. Flynn
and an Afterword by J.R. Ward
About the Author
Gaston Leroux (1868-1927) was a French journalist, playwright, and detective/thriller writer. After beginning his career as a crime reporter and war correspondent, he lived an adventurous life that took him to Scandinavia, Eastern Europe, and even into North Africa disguised as an Arab. His high-spirited, often dangerous, escapades and questioning nature provided much of the background and plot material for his sensational mystery and adventure stories, particularly those starring his reporter/sleuth Joseph Rouletabille. One of his most famous detective novels, The Mystery of the Yellow Room, was published in 1907. His works have been called "among the finest examples of the detective stories we possess." But Leroux's best-known story is The Phantom of the Opera (1911), whose macabre hero has been played in films by classic horror film stars Lon Chaney and Claude Rains. 
 
Dr. John L. Flynn is a Chicago-born author, university professor, psychologist, and science-fiction enthusiast. Among his published words are Cinematic Vampires, Dissecting Aliens, Visions in Light and Shadow, and Phantoms of the Opera. A lifelong fan of Gaston Leroux, Dr. Flynn was inspired to write his definitive study of the Opera Ghost after seeing Michael Crawford on Broadway in Andrew Lloyd Webber's Tony Award-winning musical. In 1997, he switched gears from writing and literature to study clinical psychology. Today, he lives in Baltimore and is a department chair at Baltimore City Community College.

J. R. Ward is the #1 New York Times bestselling author of numerous novels, including the Black Dagger Brotherhood series. With millions of copies of her books in print, she is at the forefront of the urban fantasy/paranormal romance genre.
Praise For The Phantom of the Opera…
"Ingenious . . . breathless suspense."—The Nation