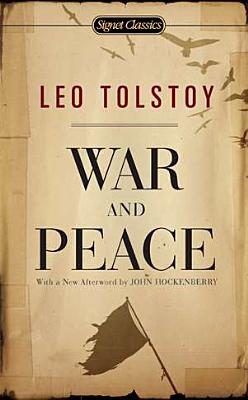 War and Peace (Mass Market Paperbound)
Signet Classics, 9780451532114, 1421pp.
Publication Date: July 3, 2012
* Individual store prices may vary.
Description
Leo Tolstoy's grand masterpiece--a timeless saga of family, love, and loss in Russia surrounding the War of 1812.
"The greatest of all novelists...what else can we call the author of War and Peace?" asked Virginia Woolf rhetorically--and literary luminaries the world over have agreed with her. The saga stands alone in its vast scope and minute detail, its immense diversity and final unity. Set in the years leading up to and culminating in Napoleon's disastrous Russian invasion, the novel focuses upon an entire society torn by conflict and change. Here is humanity in all its innocence and corruption, wisdom and folly, painful defeats and enduring triumphs. Here is the seemingly effortless artistry of a master capable of portraying with equal power the clash of armies and the solitary anguish of the heart. Here, finally, is a view of history and personal destiny that is perpetually modern.
Complete and Unabridged
Translated by Ann Dunnigan
Includes an Introduction by Pat Conroy
And an Afterword by John Hockenberry
About the Author
Count Leo Tolstoy was born on September 9, 1828, in Yasnaya Polyana, Russia. Orphaned at nine, he was brought up by an elderly aunt and educated by French tutors until he matriculated at Kazan University in 1844. In 1847, he gave up his studies and, after several aimless years, volunteered for military duty, serving as a junior officer in the Crimean War before retiring in 1857. In 1862, Tolstoy married Sophie Behrs, a marriage that was to become, for him, bitterly unhappy. His diary, started in 1847, was used for self-study and self-criticism; it served as the source from which he drew much of the material that appeared not only in his great novels War and Peace (1869) and Anna Karenina (1877), but also in his shorter works. Seeking religious justification for his life, Tolstoy evolved a new Christianity based upon his own interpretation of the Gospels. Yasnaya Polyana became a mecca for his many converts. At the age of eighty-two, the writer's health failed him in Astapovo, Russia, where he died on November 20, 1910.
or
Not Currently Available for Direct Purchase