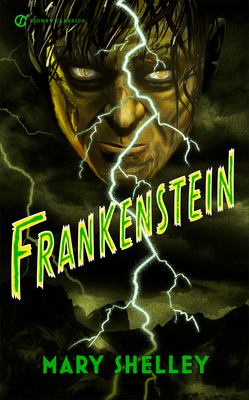 Frankenstein
Mass Market

* Individual store prices may vary.
Other Editions of This Title:
Paperback (10/2/2020)
Paperback (11/2/2014)
Paperback (11/13/2013)
Paperback (4/2/2020)
Paperback (7/18/2018)
Paperback (8/11/2015)
Paperback (12/7/2016)
Paperback (7/1/2016)
Paperback (2/23/2020)
Paperback (6/15/2017)
Paperback (11/13/2016)
Paperback, French (9/8/2016)
Paperback (12/31/2020)
Paperback (3/30/2020)
Paperback (8/13/2020)
Paperback (1/27/2021)
Paperback (11/2/2016)
Paperback (8/21/2010)
Paperback (1/26/2021)
Description
More than 200 years after it was first published, Mary Shelley's Frankenstein has stood the test of time as a gothic masterpiece—a classic work of horror that blurs the line between man and monster.

"If I cannot inspire love, I will cause fear."

For centuries, the story of Victor Frankenstein and the monster he created has held readers spellbound. On the surface, it is a novel of tense and steadily mounting dread. On a more profound level, it illuminates the triumph and tragedy of the human condition in its portrayal of a scientist who oversteps the bounds of conscience, and of a creature tortured by the solitude of a world in which he does not belong. A novel of almost hallucinatory intensity, Mary Shelley's Frankenstein represents one of the most striking flowerings of the Romantic imagination. 
 

With an Introduction by Douglas Clegg
And an Afterword by Harold Bloom
Praise For Frankenstein…
.
Signet, 9780451532244, 272pp.
Publication Date: October 1, 2013
About the Author
Born in London, Mary Wollstonecraft Shelley (1797-51) was the daughter of William Godwin, a noted social theorist, and Mary Wollstonecraft, one of the leading literary women of the day. Her mother died soon after her birth, and Mary was raised first under the care of servants, then by a stepmother, and finally in the rarefied intellectual atmosphere of her father's circle. In May 1814, she met Percy Bysshe Shelley and, in July of the year, moved with him to the Continent. Two years later, after the death of Shelley's wife, the poet and Mary were able to wed. It was in Switzerland in 1816, as a result of a story-writing competition among the Shelleys and Lord Byron, that Mary began Frankenstein, her first and most famous novel. Published in 1818, it was followed by such works as Valperga (1823), The Last Man (1826), and Falkner (1837). In 1822, after the death of her husband, she devoted herself to the upbringing of her son and the securing of his right to the Shelley family title.
 
Douglas Clegg is the award-winning author of more than twenty-five books, including Neverland, Isis, and The Vampyricon trilogy. His fiction encompasses gothic, suspense, fantasy, and horror themes. An e-book pioneer, he created the internet's first e-serial novel, Naomi, which was released in 1999.
 
Harold Bloom, the country's preeminent literary critic, is Sterling Professor of the Humanities and English at Yale University. He is the recipient of numerous honors and awards, including the Gold Medal of the American Academy of Arts and Letters. Among his most important books are The Anatomy of Influence: Literature as a Way of Life and How to Read and Why.