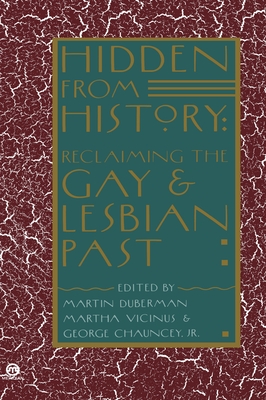 Hidden from History (Paperback)
Reclaiming the Gay and Lesbian Past
Plume, 9780452010673, 592pp.
Publication Date: November 1, 1990
* Individual store prices may vary.
Description
Winner of two Lambda Rising Awards

This richly revealing anthology brings together for the first time the vital new scholarly studies now lifting the veil from the gay and lesbian past. Such notable researchers as John Boswell, Shari Benstock, Carroll Smith-Rosenberg, Jeffrey Weeks and John D'Emilio illuminate gay and lesbian life as it evolved in places as diverse as the Athens of Plato, Renaissance Italy, Victorian London, jazz Age Harlem, Revolutionary Russia, Nazi Germany, Castro's Cuba, post-World War II San Francisco—and peoples as varied as South African black miners, American Indians, Chinese courtiers, Japanese samurai, English schoolboys and girls, and urban working women. Gender and sexuality, repression and resistance, deviance and acceptance, identity and community—all are given a context in this fascinating work.

"A landmark of a book and a landmark of ideas that will shatter ignorance and delusion."—Catharine Stimpson, University Professor and Dean Emerita of the Graduate School of Arts and Science at New York University

"Ground-breaking."—Publishers Weekly

"The juxtaposition of diverse perspectives and research crossing boundaries of race, gender, culture, and time encourages a lively dialogue. Highly recommended for history collections, and especially gay studies."—Library Journal
About the Author
Martin Bauml Duberman is a historian, biographer, playwright, and gay rights activist. He has written more than 25 books, plays, and anthologies, including Hold Tight Gently: Michael Callen, Essex Hemphill, and the Battlefield of AIDS, Hidden from History: Reclaiming the Gay and Lesbian Past, and Jews Queers Germans. He is Professor of History Emeritus at Herbert Lehman College.

Martha Vicinus is an LGBT scholar, anti-war activist, and professor of English literature and Women's Studies. Her books include Lesbian Subjects: A Feminist Studies Reader, Hidden From History: Reclaiming the Gay and Lesbian Past, and Suffer and Be Still: Women in the Victorian Age. She serves as the Eliza M. Mosher Distinguished University Professor of English, Women's Studies, and History at the University of Michigan, Ann Arbor.

George Chauncey is a scholar of twentieth-century U.S. history and lesbian and gay history. He is co-director of the Yale Research Initiative on the History of Sexualities and has served as the chair of the History Department, chair of LGBT Studies, and Director of Graduate Studies and Undergraduate Studies for American Studies. He is author of Gay New York: Gender, Urban Culture, and the Making of the Gay Male World, 1890-1940 and Why Marriage? The History Shaping Today's Debate Over Gay Equality.
Praise For Hidden from History: Reclaiming the Gay and Lesbian Past…
Winner of two Lambda Rising Awards

"A landmark of a book and a landmark of ideas that will shatter ignorance and delusion."—Catharine Stimpson, University Professor and Dean Emerita of the Graduate School of Arts and Science at New York University

"A rich offering… solid and intriguing. One comes away from reading this collection… with fresh, extended, and perhaps more sensitive conceptions of sexuality itself."—Washington Post Book World
 
"Convincingly demonstrates the legitimacy of gay and lesbian history, reveals its extraordinary richness, and sets the agenda for future research."—George Stambolian, editor of Men on Men

"Ground-breaking."—Publishers Weekly

"The juxtaposition of diverse perspectives and research crossing boundaries of race, gender, culture, and time encourages a lively dialogue. Highly recommended for history collections, and especially gay studies."—Library Journal

"A treasure… major, informative, and fascinating."—The Advocate
or
Not Currently Available for Direct Purchase