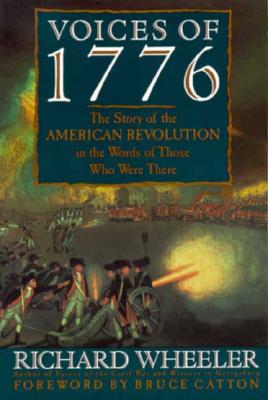 Voices of 1776: The Story of the American Revolution in the Words of Those Who Were There (Paperback)
The Story of the American Revolution in the Words of Those Who Were There
Plume, 9780452010789, 448pp.
Publication Date: September 1, 1997
* Individual store prices may vary.
or
Not Currently Available for Direct Purchase
Description
From the opening shots at Lexington and Concord to Cornwallis's surrender at Yorktown, this eyewitness history brings the American Revolution to life. These are the words of those who actually participated in the war's battles or observed them firsthand -- Americans and British, generals and privates, soldiers and civilians. George Washington, Ethan Allen, Benedict Arnold and John Paul Jones -- all are here -- famous and infamous, along with the anonymous men who fought in the ranks to flee America. The words they speak are authentic and the story they tell is at once true and engrossing.
Wheeler weaves from these first-person accounts a seamless narrative of the American struggle for independence, one that has both the dramatic sweep of an epic and the vivid immediacy of a personal journal.
"Participants and observers from both sides...famous and obscure come to life". -- Publishers Weekly
"This superior 'living history' is completely engrossing". -- Library Journal
"An excellent book for the student, buff, and professional". -- American History Illustrated

Advertisement