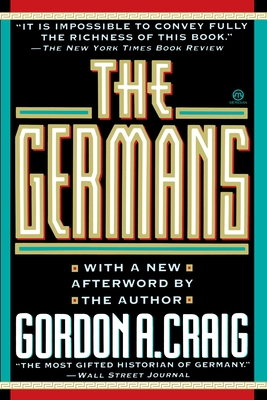 The Germans
Paperback

* Individual store prices may vary.
Description
They have given mankind unique triumphs in science, literature, philosophy, music, and art. They have also produced Hitler and the Holocaust. They are romantic and conservative, idealistic and practical, proud and insecure, ruthless and good-natured. They are, in short, the Germans.

In this definitive history, Professor Gordon A. Craig, one of the world's premier authorities on Germany, comes to grips with the complex paradoxes at the heart of the German identity. His masterly study explores the roots of many contemporary institutions in German history and closely examines such topics as religion, money, Germans and Jews, women, professors and students, romantics, literature and society, soldiers, Berlin, and the German language. Craig also discusses the events surrounding the fall of the Berlin Wall and the German reunification, while offering invaluable insights into Germany's pivotal role in world affairs for over a century.
Plume, 9780452010857, 368pp.
Publication Date: September 1, 1991
About the Author
Gordon A. Craig was a Scottish-American historian of German and diplomatic history. He studied history at Princeton and was a Rhodes Scholar at Balliol College, Oxford, before serving in the US Marine Corps during World War II. In 1941, he coedited the book Makers of Modern Strategy: Military Thought from Machiavelli to Hitler, which was intended to serve as a strategic thinking guide for military leaders during World War II. Some of Craig's other books include The Germans; The Politics of the Prussian Army 1640–1945; Europe Since 1914; The End of Prussia; Force and Statecraft: Diplomatic Problems of Our Time; and Politics and Culture in Modern Germany. Craig was unique in that he envisioned history as less of a social science and more of a human discipline, seeking to interconnect the study of history with the study of literature. Gordon A. Craig passed away in 2005.
or
Not Currently Available for Direct Purchase