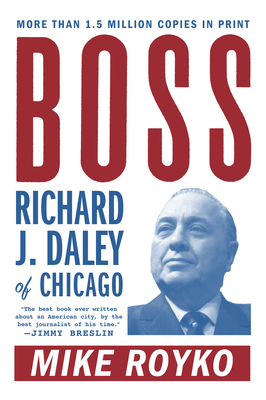 Boss
Richard J. Daley of Chicago
Paperback

* Individual store prices may vary.
Description
"The best book ever written about an American city, by the best journalist of his time."— Jimmy Breslin

New edition of the classic story of the late Richard J. Daley, politician and self-promoter extraordinaire, from his inauspicious youth on Chicago's South Side through his rapid climb to the seat of power as mayor and boss of the Democratic Party machine. A bare-all account of Daley's cardinal sins as well as his milestone achievements, this scathing work by Chicago journalist Mike Royko brings to life the most powerful political figure of his time: his laissez-faire policy toward corruption, his unique brand of public relations, and the widespread influence that earned him the epithet of "king maker." The politician, the machine, the city—Royko reveals all with witty insight and unwavering honesty, in this incredible portrait of the last of the backroom Caesars.

New edition includes an Introduction in which the author reflects on Daley's death and the future of Chicago.
Praise For Boss: Richard J. Daley of Chicago…
"The best book ever written about an American city, by the best journalist of his time. Perhaps it will stand as the best book ever written about the American condition at this time. It comes at you from the saloons and neighborhoods, the police stations and political backrooms. It is about lies and viciousness, about the worship of cement and the hatred toward blacks, about troubling cowardice that hides behind religion and patriotism while the poor get clubbed and killed. … Royko's book also does more written damage to a man than perhaps anything I have ever read. … I know of no place where it will not be read and quoted and kept and read again."
— Jimmy Breslin
"A pungent and precise portrait of how big-city politics work. And it is brisk and lively reading in the bargain. … Muckraking at its best, a remorseless book that bites and tears."
— Christopher Lehmann-Haupt, The New York Times
"There's nobody better than Mike Royko writing politics anywhere in the country today. About the book? It's Daley; Royko's got him to the life. And it's Chicago. Even if you've never been there you know it's Chicago. A fine job."
—Russell Baker, The New York Times
"Stunning, astonishing, myth-shattering!"
— Studs Terkel, New York Times Book Review
"Without question the most devastating dissection of a personal municipal fief I've ever read … Brilliant!"
— John Barkham, Saturday Review Syndicate
"A great book … Chicago and the lesser towns that make up urban America may or may not die. But you won't understand why they hurst so much until you read Boss."
— The Washington Post
Plume, 9780452261679, 240pp.
Publication Date: October 1, 1988
About the Author
Mike Royko was a nationally syndicated columnist working for the Chicago Tribune. His other books include Like I Was Saying and Sez Who? Sez Me.
Coverage from NPR
or
Not Currently Available for Direct Purchase