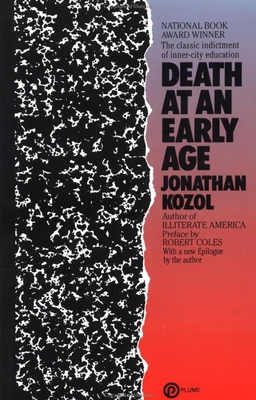 Death at an Early Age (Paperback)
The Classic Indictment of Inner-City Education
Plume, 9780452262928, 272pp.
Publication Date: October 1, 1985
* Individual store prices may vary.
Description
WINNER OF THE NATIONAL BOOK AWARD

In 1964, Jonathan Kozol entered the Boston Public School system to teach fourth grade at one of its most overcrowded inner-city schools. Here, he unflinchingly exposes the disturbing "destruction of hearts and minds in the Boston public school." Death at an Early Age is the unsparing, heart-wrenching account of the year he spent there—the most shocking and powerful personal story ever told by a young teacher, now updated with a new epilogue by the author.

"Honest and terrifying… the heartbreaking story it tells has to be read."—Robert Coles, The New York Times Book Review

"Will anger you to the boiling point and may make you want to weep… I recommend—with considerable urgency—Death at an Early Age."—Chicago Tribune
About the Author
Jonathan Kozol is the author of Death at an Early Age, Savage Inequalities, Amazing Grace, and other award-winning books about young children and their public schools.

Robert Coles is a professor of psychiatry and medical humanities at the Harvard Medical School and a research psychiatrist for the Harvard University Health Services. His many books include the Pulitzer Prize-winning five-volume Children of Crisis and the bestselling The Moral Intelligence of Children and The Spiritual Intelligence of Children. He is also the James Agee Professor of Social Ethics at Harvard. He lives in Massachusetts.
Praise For Death at an Early Age: The Classic Indictment of Inner-City Education…
WINNER OF THE NATIONAL BOOK AWARD

"Honest and terrifying… the heartbreaking story it tells has to be read."—Robert Coles, The New York Times Book Review
 
"A major document in the literature of urban schools."—Peter Schrag, Saturday Review
 
"Through Kozol's voice, we hear the children calling for help… what he tells us is the truth."—John Holt, New York Review of Books
 
"This book will anger you to the boiling point and may make you want to weep… I recommend—with considerable urgency—Death at an Early Age."—Chicago Tribune

"Still a must-read… It is fortuitous that the anniversary of Death at an Early Age coincides with the summer of the Charleston massacre, on the heels of the killings of unarmed black suspects in Ferguson, Missouri, New York City, Baltimore, Tulsa, Oklahoma and so many other places. Some might be tempted to reread Kozol to buttress their personal positions on criminal justice, the War on Drugs, in support of the contemporary school reform movement, or in opposition to that approach to school improvement. That is not the way to approach this masterpiece.  We should unflinchingly face The Destruction of the Hearts and Minds of Negro Children in the Boston Public Schools, and then mourn. After a decent interval, there will be a time for debate and the politics of education, the criminal justice system, economic justice, and civil rights."—John Thompson, Huffington Post
 
"Kozol's book stands as much more than an analysis and indictment of school racism, important as that is. What makes Death at an Early Age a classic of progressive education is Kozol's description of the way he takes on the institutional apartheid by trying to close the traditional gap separating teacher and student... With long lists of material to cover for the tests, teachers may soon find themselves with no time to venture beyond the official curriculum or to reach out to students. Kozol decries this kind of teaching. Indeed, his arguments about the need for teachers to know their students and link learning to their lives is at the heart of the book. In this way, Death at an Early Age speaks to a whole new generation of teachers."—David Ruenzel, Education Week