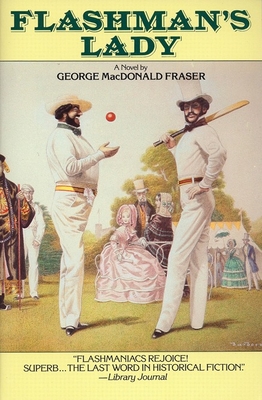 Flashman's Lady (Paperback)
Plume, 9780452264892, 336pp.
Publication Date: April 1, 1988
* Individual store prices may vary.
Description
What is Flashy doing?

-in the drawing room of a great English mansion with the redhot-blooded mistress of a violently jealous blue-blood?
-in between a pair of Chinese beauties who are willing to do anything and everything to close the gap between East and West?
-in the hold of a warship under fire, with a Malay maiden as explosive as the shells bursting above?
-in the forced service of an African queen who lets a lover stay alive only as long as his power to please holds up?
 
This unblushing cad, this lustful libertine, this infamous and irresistible antihero is clearing doing better than ever—in a round-the-world adventure that would make Queen Victoria pale with shock and swingers of today green with envy.
About the Author
George MacDonald Fraser was a bestselling historical novelist, journalist and screenwriter. He is perhaps most famous for his series of Flashman novels, featuring his antihero Harry Flashman. In addition to his novels, he wrote numerous screenplays, most notably The Three Musketeers and the James Bond film Octopussy. George MacDonald Fraser died in 2008 at the age of 82.
Praise For Flashman's Lady…
Praise for the Flashman series
"Hilariously funny."—The New York Times Book Review
 
"Great dirty fun!"—Grand Rapids Press
 
"The most entertaining anti-hero in a long time… Moves from one ribald and deliciously corrupt episode to the next… Wonderful and scandalous."—Publishers Weekly
 
"Raises dastardliness to the level of an art… One of the most amusing and sardonic novels I have ever read!"—Omaha World
 
"As irreverent and picaresque as Tom Jones and always more dramatic… Flashman is a one-man demolition squad!"—Chicago Today
 
"Marvelously entertaining… A delight!"—Providence Journal