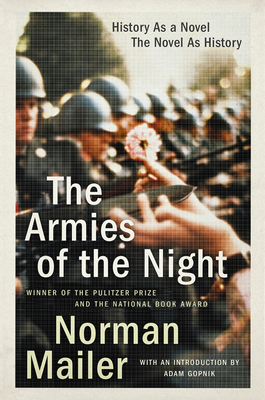 The Armies of the Night: History as a Novel, the Novel as History (Paperback)
History as a Novel, the Novel as History
Plume Books, 9780452272798, 304pp.
Publication Date: January 1, 1995
Description
Winner of the Pulitzer Prize and the National Book Award "Only a born novelist could have written a piece of history so intelligent, mischievous, penetrating and alive."--Alfred Kazin, The New York Times Book Review

The time is October 21, 1967. The place is Washington, D.C. Depending on the paper you read, 20,000 to 200,000 protestors are marching to end the war in Vietnam, while helicopters hover overhead and federal marshals and soldiers with fixed bayonets await them on the Pentagon steps. Among the marchers is a writer named Norman Mailer. From his own singular participation in the day's events and his even more extraordinary perceptions comes a classic work that shatters the mold of traditional reportage. Intellectuals and hippies, clergymen and cops, poets and army MPs crowd the pages of a book in which facts are fused with techniques of fiction to create the nerve-end reality of experiential truth. Fifty years after the March on the Pentagon, Norman Mailer's seminal tour de force remains as urgent and incisive as ever. Winner of America's two highest literary awards, The Armies of the Night uniquely and unforgettably captures the Sixties' tidal wave of love and rage at its crest and a towering genius at his peak. "His genuine wit and bellicose charm, and his fervent and intense sense of legitimately caring, render The Armies of the Night an artful document, worthy to be judged as literature."--Time
About the Author
Born in 1923 in Long Branch, New Jersey, and raised in Brooklyn, New York, Norman Mailer was one of the most influential writers of the second half of the twentieth century and a leading public intellectual for nearly sixty years. He is the author of more than thirty books. The Castle in the Forest, his last novel, was his eleventh New York Times bestseller. His first novel, The Naked and the Dead, has never gone out of print. His 1968 nonfiction narrative, The Armies of the Night, won the Pulitzer Prize and the National Book Award. He won a second Pulitzer forThe Executioner's Song and is the only person to date to have won Pulitzers in both fiction and nonfiction. Five of his books were nominated for National Book Awards, and he won a lifetime achievement award from the National Book Foundation in 2005. Norman Mailer died in 2007 in New York City.
Advertisement