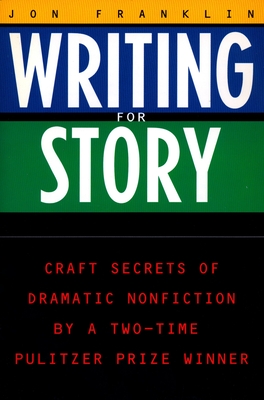 Writing for Story
Craft Secrets of Dramatic Nonfiction (Reference)
Paperback

* Individual store prices may vary.
Description
The new "nonfiction"—the adaptation of storytelling techniques to journalistic articles in the manner of Truman Capote, Tom Wolfe, and John McPhee—is an innovative genre that has been awarded virtually every Pulitzer Prize for literary journalism since 1979. And now Jon Franklin, himself a two-time Pulitzer Prize winner and undisputed master of the great American nonfiction short story, shares the secrets of his success. Franklin shows how to make factual pieces come alive by applying the literary techniques of complication/resolution, flashback, foreshadowing, and pace. He illustrates his points with a close analysis and annotation of two of his most acclaimed stories, so that the reader can see, step-by-step, just how they were created. This lively, easy-to-follow guid combines readability and excitement with the best of expository prose and illuminates the techniques that beginning journalists—and more experienced ones, too—will find immensely helpful:
Stalking the true short story
Drafting an effective outline
Structuring the rough copy
Polishing like a pro
and the tips, tools, and techniques that will put your stories on the cutting edge
Praise For Writing for Story: Craft Secrets of Dramatic Nonfiction (Reference)…
"All in all, an impressive introduction to a difficult subject, done with disarming candor. Franklin provides concise, no-nonsense tips … in a lively, easy-to-follow style that's refreshingly free from the usual 'creative writing' jargon. It's a technique that beginning journalists, and even those more experienced, will find especially helpful and revealing. Franklin knows what he's talking about and shares his knowledge with admirable generosity."
—
Kirkus Reviews
"Learning to write the short story, always a challenge for budding fiction writers, is for Franklin … the royal road to success in feature writing today, Thoroughly and methodically, he shows aspiring journalists how to 'nail down' the operative elements of a story—complication/resolution, flashback, foreshadowing, and pace—and, through close analysis of two of his prize-winning features, what to do and in what order to do it … a sound, fertile book, recommended for attaining effective writing skills."
—Library Journal
Plume, 9780452272958, 288pp.
Publication Date: September 1, 1994
About the Author
Jon Franklin is a well-known pioneer in creative nonfiction. His innovative work in the use of literary techniques in the non-fiction short story, novel, and explanatory essay won him the first Pulitzer Prizes ever awarded in the categories of feature writing (1979) and explanatory jounalism (1985). His books include Writing for Story, The Molecules of the Mind, Guinea Pig Doctors (with J. Sutherland), Not Quite a Miracle (with Alan Doelp), and Shocktrauma (with Alan Doelp). He is a professor at the University of Oregon.