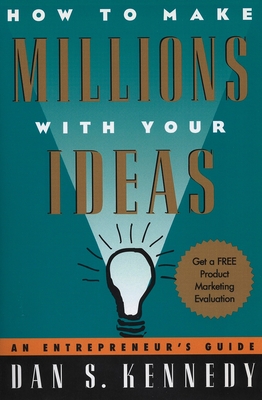 How to Make Millions with Your Ideas (Paperback)
An Entrepreneur's Guide
Plume, 9780452273160, 272pp.
Publication Date: January 1, 1996
* Individual store prices may vary.
Description
You've come up with a brilliant idea for a brand-new product or service you know could make you rich. Or maybe you currently own a business that pays the bills, and your dream is to become fabulously successful and retire a millionaire. But how? How to Make Millions with Your Ideas has all the answers.

This book is packed with the true stories and proven advice of ordinary people who began with just an idea, a simple product, or a fledgling business and wound up with millions. It examines the methods and principles of dozens of successful entrepreneurs, including author Dan Kennedy's surefire, easy-to-follow Millionaire Maker Strategies. It helps you determine which of three paths to success are best for you and guides you step-by-step down that path on your way to fortune. Discover:
 
·         The eight best ways to make a fortune from scratch
·         How to turn a hobby into a million-dollar enterprise
·         How to sell an existing business for millions
·         The power of electronic media to help make you rich
·         The "Million Dollar Rolodex" of contacts and information you can use to get on the road to wealth
About the Author
Dan S. Kennedy made a fortune in direct-mail marketing by doing exactly what he wasn't supposed to. A leading producer of infomercials and video brochures, he is also the author of How to Make Millions With Your Ideas (Plume). He lives in Phoenix, Arizona.
Praise For How to Make Millions with Your Ideas: An Entrepreneur's Guide…
"If you want to make waves, go to Harvard and get your Ph.D. If you want to make money, get your PhE—rush to your nearest bookstore and get Dan Kennedy's new book—it's like a four-year course in entrepreneurship!"—Al Ries, co-founder and chairman, Ries & Ries, author of Marketing Warfare and The 22 Immutable Laws of Marketing
 
"Dan Kennedy's smart marketing advice has been of great value to our business. I wish I'd read this book back when we started Joan Rivers Products. It certainly would have made our journey that much easier."—Joan Rivers
 
"Dan Kennedy can make dreams come true. You'll get a million dollars worth of value from this book. A must read for entrepreneurs and CEOs."—Joseph R. Mancuso, founder of Center for Entrepreneurial Management/The Chief Executive Officers Club, author of How to Write a Winning Business Report
 
"At our conferences we deal with thousands of inventors, authors, manufacturers, and creative people bringing new products to the marketplace. Every one of them would profit tremendously by reading Dan Kennedy's book. He describes every option for turning sound ideas into fortunes."—Helene Blake, National Infomercial Marketing Association
 
"It took several years of creative persistence to finally bring our product to the marketplace. The challenges and obstacles that confronted us made reading your book that much more meaningful. We only wish it would have been published several years ago. It certainly would have made our task much easier!"—Dr. Harvey N. Silverman and Dr. Robert O. Wolf, developers of Perfect Smile Tooth Whitening System™
 
"As I went through these pages I saw many things I'm already doing. But I was amazed to discover how many things I'm not doing—but will do now! And the Million Dollar Rolodex at the back of the book is worth ten times the price of the book. You could spend $1,000 and attend the seminar, or buy the book and have the seminar at your fingertips forever. I like that idea!"—Murray Raphel, Raphel Marketing, author of Customerization