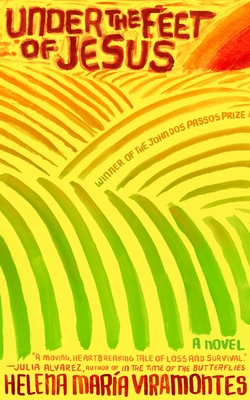 Under the Feet of Jesus (Paperback)
Plume Books, 9780452273870, 192pp.
Publication Date: April 1, 1996
Description
Winner of the John Dos Passos Prize for Literature "Stunning."--Newsweek With the same audacity with which John Steinbeck wrote about migrant worker conditions in The Grapes of Wrath and T.C. Boyle in The Tortilla Curtain, Viramontes presents a moving and powerful vision of the lives of the men, women, and children who endure a second-class existence and labor under dangerous conditions in California's fields. At the center of this powerful tale is Estrella, a girl about to cross the perilous border to womanhood. What she knows of life comes from her mother, who has survived abandonment by her husband in a land that treats her as if she were invisible, even though she and her children pick the crops of the farms that feed its people. But within Estrella, seeds of growth and change are stirring. And in the arms of Alejo, they burst into a full, fierce flower as she tastes the joy and pain of first love. Pushed to the margins of society, she learns to fight back and is able to help the young farmworker she loves when his ambitions and very life are threatened in a harvest of death. Infused with the beauty of the California landscape and shifting splendors of the passing seasons juxtaposed with the bleakness of poverty, this vividly imagined novel is worthy of the people it celebrates and whose story it tells so magnificently. The simple lyrical beauty of Viramontes' prose, her haunting use of image and metaphor, and the urgency of her themes all announce Under the Feat of Jesus as a landmark work of American fiction.
About the Author
Helena Maria Viramontes is the acclaimed author of The Moths and Other Stories, Under the Feet of Jesus, and Their Dogs Came with Them; and the coeditor of two collections: Chicana (W)Rites: On Word and Film and Chicana Creativity and Criticism. She is the recipient of the Luis Leal Award and the John Dos Passos Award for Literature, and her short stories and essays have been widely anthologized and adopted for classroom use and university study. Viramontes lives in Ithaca, New York, where she is a professor in the Department of English at Cornell University.
Advertisement