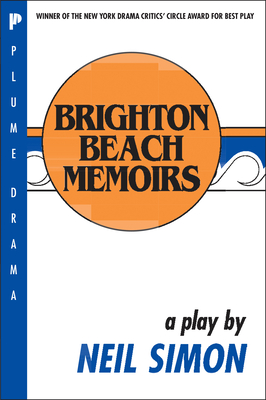 Brighton Beach Memoirs (Paperback)
Plume Books, 9780452275287, 144pp.
Publication Date: November 1, 1995
Description
The first in Neil Simon's "Eugene Trilogy," followed by Biloxi Blues and Broadway Bound

Winner of a New York Drama Critics Circle Award for Best Play and a Drama Desk Award for Outstanding New Play
Meet Eugene Jerome and his family, fighting the hard times and sometimes each other with laughter, tears, and love. It is 1937 in Brooklyn during the heart of the Depression. Fifteen-year-old Eugene Jerome lives in Brighton Beach with his family. He is witty, perceptive, obsessed with sex, and forever fantasizing his baseball-diamond triumphs as star pitcher for the New York Yankees. As our guide through his "memoirs," Eugene takes us through a series of trenchant observations and insights that show his family meeting life's challenges with pride, spirit, and a marvelous sense of humor. But as World War II looms ever closer, Eugene sees his own innocence slipping away as the first important era of his life ends and a new one begins.
This semiautobiographical classic was adapted into a film by Simon's longterm professional partner, Gene Saks, who directed, among many others, Biloxi Blues, The Odd Couple, Broadway Bound, and Lost in Yonkers.
About the Author
Since 1960, a Broadway season without a Neil Simon comedy or musical has been a rare one. His first play was Come Blow Your Horn, followed by the musical Little Me. During the 1966-67 season, Barefoot in the Park, The Odd Couple, Sweet Charity, and The Star-Spangled Girl were all running simultaneously; in the 1970-71 season, Broadway theatergoers had their choice of Plaza Suite, Last of the Red Hot Lovers, and Promises, Promises. Next came The Gingerbread Lady, The Prisoner of Second Avenue, The Sunshine Boys, The Good Doctor, God's Favorite, California Suite, Chapter Two, the musical They're Playing Our Song, I Ought to Be in Pictures, Brighton Beach Memoirs (which won the New York Drama Critics' Circle Award for Best Play of 1983), Biloxi Blues (which won the Tony Award for Best Play of 1985), and the female version of The Odd Couple.Mr. Simon began his writing career in television, writing The Phil Silvers Show and Sid Caesar's Your Show of Shows. He has also written the screen adaptations of Barefoot in the Park, The Odd Couple, Plaza Suite, The Prisoner of Second Avenue, The Sunshine Boys, California Suite, Chapter Two, and I Ought to Be in Pictures. His original screenplays include The Out-of-Towners, The Hearbreak Kid, Murder by Death, The Goodbye Girl, The Cheap Detective, Seems Like Old Times, Only When I Laugh, Max Dugan Returns, and The Slugger's Wife. He received the Tony Award and the Pulitzer Prize in 1991 for Lost in Yonkers.The author lives in California and New York. He is married to Diane Lander and has three daughters, Ellen, Nancy, and Bryn.
Praise For Brighton Beach Memoirs…
"Humorous and poignantsomething to celebrate! Neil Simon's love letter to his past. Brighton Beach Memoirs belongs to the family genre where the passwords are forgive and remember."
Time

"Neil Simon's richest play."
New York Daily News
Advertisement