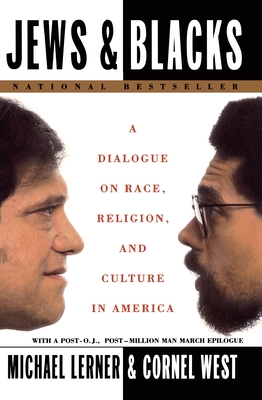 Jews and Blacks: A Dialogue on Race, Religion, and Culture in America (Paperback)
A Dialogue on Race, Religion, and Culture in America
Plume Books, 9780452275911, 304pp.
Publication Date: February 1, 1996
* Individual store prices may vary.
or
Not Currently Available for Direct Purchase
Description
"Credible and important."--Kirkus Reviews Examining the issues that have united Blacks and Jews in the past and now separate them, two long-time friends and leading intellectuals try to restore the special relationship between the two groups in a hard-hitting and worthwhile exchange. Can Jews and Blacks be friends and allies once again? It's neither easy nor impossible, say Michael Lerner and Cornel West, in a dialogue that looks at the most pressing problems of contemporary America through the prism of the relationship between their two communities. The alliance between Blacks and Jews was the cornerstone of liberal politics for much of the twentieth century. Yet today there are people in each community who see their former ally as their most dangerous foe. In the current political climate, it would be easy to suggest we gloss over the differences and unite in the face of a common enemy: the reactionary right. But calls for unity are not likely to succeed unless they are based on working through the explosive issues that separate communities. West and Lerner refuse to compromise their deeply held views for the sake of unity. In a dialogue that is always respectful, though sometimes marked by tension, they help each other understand their different ways of looking at the world. Avoiding easy outs and quick fixes, they explore such subjects as Louis Farrakhan, Zionism, the economic inequalities between Jewish and Black communities, crime, and affirmative action. Both powerful public intellectuals, Lerner and West take on some of the most demanding problems of our time, in a sophisticated but extremely accessible way. They conclude with a plan for healing the rifts that have developed. But in a deeper sense, it is their dialogue itself that is healing. Lerner and West's relationship is a model rarely seen in American politics: two powerful men ready to explore differences, not afraid to disagree, and drawn through the course of the dialogue to grow closer and morecaring for each other. The dialogue of this book is a model for both the Black and the Jewish communities, and it suggests that healing and transformation are possible, and that hope can triumph over cynicism and despair. With a new epilogue on the O.J. Simpson verdict and the Million Man March.
About the Author
Rabbi Michael Lerner is the author of the national bestseller The Left Hand of God: Taking Our Country Back from the Religious Right. He is the editor of Tikkun, one of the most respected intellectual/cultural magazines in the Jewish world, and rabbi of Beyt Tikkun Synagogue in Berkeley, CA. Cornel West is a prominent and provocative democratic intellectual. He graduated magna cum laude from Harvard and obtained his MA and PhD in philosophy at Princeton. He has taught at Union Theological Seminary, Yale, Harvard, Princeton, and the University of Paris. He has written nineteen books and edited thirteen books. He is best known for his classic Race Matters. His latest books are Black Prophetic Fire, which offers a fresh perspective on six revolutionary African American leaders (Frederick Douglass, W. E. B. Du Bois, Martin Luther King Jr., Ella Baker, Malcolm X, and Ida B. Wells) and The Radical King, a collection of King's writings, curated and introduced by West to reclaim his prophetic and radical vision as both a civil rights leader and--more broadly--as a human right activist.
Advertisement