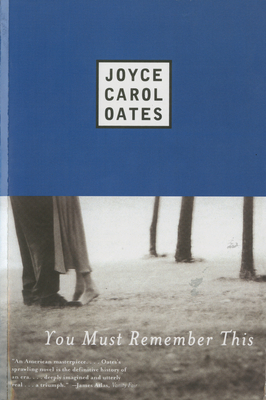 You Must Remember This (Paperback)
Plume, 9780452280199, 448pp.
Publication Date: November 1, 1998
* Individual store prices may vary.
Description
From Joyce Carol Oates, the bestselling author of We Were the Mulvaneys, comes an epic family novel about the division between the permissible and the forbidden, between ordinary life and the secret places of the heart. 

Set in an industrial, working-class town in upstate New York, You Must Remember This is the story of the Stevicks: two parents trapped in a frustrating marriage; their idealistic, ambitious son, and fifteen-year-old Enid Maria, who becomes caught up in a secret sexual relationship with her uncle Felix, a professional boxer twice her age. 

A true and empathetic tale that merges love and violence, it is also a brilliant re-creation of a decade that worshiped conformity, one that tells of lives that break every convention in the search for meaning and fulfillment.
About the Author
In addition to many prize-winning and bestselling novels, including We Were the Mulvaneys, A Book of American Martyrs, Black Water, Because It Is Bitter and Because It Is My Heart, and Broke Heart Blues, Joyce Carol Oates is the author of a number of works of gothic fiction including Haunted: Tales of the Grotesque, a World Fantasy Award nominee; and Zombie, winner of the Bram Stoker Award for Best Horror Novel, awarded by the Horror Writers' Association. In 1994, Oates received the Bram Stoker Lifetime Achievement Award in Horror Fiction. She is the editor of American Gothic Tales.
Praise For You Must Remember This…
Praise for You Must Remember This

"Prolific writer Oates demonstrates awesome talent in her new novel, a family saga, set against the backdrop of conservatism that marked America in the 1950s...a vivid portrait of bewildered, inarticulate people pushed against the narrow boundaries of their era by their emotions...Oates is not easy on her characters. She moves them through McCarthyism, backyard fallout shelters and illegal abortions, slapping them with harsh reflections of their weaknesses. Fully developed, they are described in language that is both elegant and gritty. The scenes between Enid and Felix add a pulsing, sensate eroticism. Infused with narrative energy, this is one of Oates's strongest books in many seasons."—Publishers Weekly
 
"Ms. Oates has, if anything, sharpened her feel for gritty urban settings and the passions and despairs that flame up there. The inner voice of adolescence is convincingly intense—it plays effectively against the raging and choked-down voices of adulthood."—New York Times