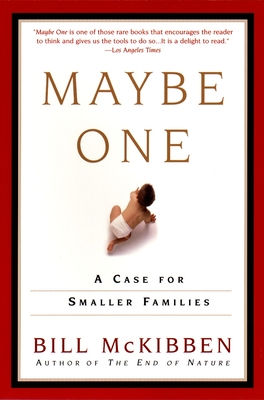 Maybe One
A Case for Smaller Families
Paperback

* Individual store prices may vary.
Description
In light of climate change warnings, more families are looking for ways to reduce their carbon footprint and help prevent disasters like rising sea levels, wildfires, and increasing global temperatures. In this compelling book, the author of The End of Nature and Falter argues for a solution with sociological, population, and environmental benefits: having fewer children.

The earth is becoming dangerously overcrowded, and if more families chose to have only one child, it would make a crucial difference toward ensuring a healthy future for ourselves and our planet for generations to come.

But the environment alone may not persuade most people to consider having just one child, as 80% of Americans have siblings. Powerful stereotypes about only children—that they're spoiled, selfish, or maladjusted in some way—still persist. McKibben, the proud father of an only child himself, debunks these myths, citing research about the many emotional and intellectual strengths only children possess, including higher test scores, higher levels of achievement in school, and greater development of positive personality traits like maturity and self-control.

At once a powerful personal argument and an accessible exploration of what overpopulation could mean to human life and environmental sustainability, Maybe One is a provocative yet well-reasoned opening to what has become important and lasting debate.
Praise For Maybe One: A Case for Smaller Families…
"What stands out in this eloquent book... is McKibben's wonderfully illuminating and entertaining work in tracking down our national prejudice against only children and single-child families. There and throughout this call to arms, the reader feels the added dimension of a father's love."—Publishers Weekly

"A timely book."—Booklist

"An impassioned call for Americans to limit their offspring in the name of the planet."—Kirkus Reviews

"A warmly personal exploration of what may be humankind's most compelling dilemma."—The San Francisco Chronicle

"One of those rare books that encourages the reader to think and gives us the tools with which to do so; it has a point of view without ever becoming doctrinaire. For all its sobering issues, it is a delight to read. McKibben is that better kind of optimist, one who sees a problem and finds liberation in sculpting an answer."—The Los Angeles Times Sunday Book Review

"Compelling."—The Boston Globe
Plume, 9780452280922, 256pp.
Publication Date: June 1, 1999
About the Author
Bill McKibben is the author of more than a dozen books, including The End of Nature, Enough: Staying Human in an Engineered Age, and Deep Economy. A former staff writer for the New Yorker, he writes often for Harper's, National Geographic, and the New York Review of Books, among other publications. He is the founder of the environmental organizations Step It Up and 350.org, a global warming awareness campaign that in October 2009 coordinated what CNN called "the most widespread day of political action in the planet's history." He is a scholar in residence at Middlebury College and lives in Vermont with his wife, the writer Sue Halpern, and their daughter.
or
Not Currently Available for Direct Purchase