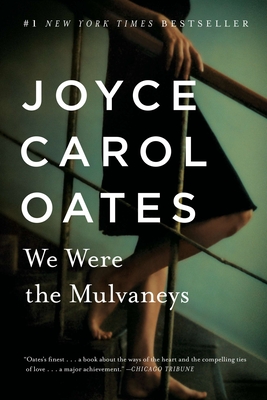 We Were the Mulvaneys (Oprah's Book Club) (Paperback)
Plume Books, 9780452282827, 454pp.
Publication Date: January 24, 2001
* Individual store prices may vary.
Description
A
New York Times
Notable Book and a former
Oprah Book Club(R)
selection
Moving away from the dark tone of her more recent masterpieces, Joyce Carol Oates turns the tale of a family struggling to cope with its fall from grace into a deeply moving and unforgettable account of the vigor of hope and the power of love to prevail over suffering. The Mulvaneys of High Point Farm in Mt. Ephraim, New York, are a large and fortunate clan, blessed with good looks, abundant charisma, and boundless promise. But over the twenty-five year span of this ambitious novel, the Mulvaneys will slide, almost imperceptibly at first, from the pinnacle of happiness, transformed by the vagaries of fate into a scattered collection of lost and lonely souls. It is the youngest son, Judd, now an adult, who attempts to piece together the fragments of the Mulvaneys' former glory, seeking to uncover and understand the secret violation that occasioned the family's tragic downfall. Each of the Mulvaneys endures some form of exile--physical or spiritual--but in the end they find a way to bridge the chasms that have opened up among them, reuniting in the spirit of love and healing. Profoundly cathartic, Oates' acclaimed novel unfolds as if, in the darkness of the human spirit, she has come upon a source of light at its core. Rarely has a writer made such a startling and inspiring statement about the value of hope and compassion.
About the Author
In addition to many prize-winning and bestselling novels, including We Were the Mulvaneys, Black Water, and Because It Is Bitter and Because It Is My Heart (available in Plume editions), Joyce Carol Oates is the author of a number of works of gothic fiction including Haunted: Tales of the Grotesque (Plume), a 1995 World Fantasy Award nominee; and Zombie (Plume), winner of the 1996 Bram Stoker Award for Best Horror Novel, awarded by the Horror Writers' Association. In 1994, Oates received the Bram Stoker Lifetime Achievement Award in Horror Fiction. She is the editor of American Gothic Tales and her latest novel is Broke Heart Blues (Dutton). She lives in Princeton, New Jersey.
Praise For We Were the Mulvaneys (Oprah's Book Club)…
"It will consume you." --The Washington Post Book World

"New testimony to Oates' great intelligence and dead-on imaginative powers. It is a book that will break your heart, heal it, then break it again every time you think about it." --Los Angeles Times Book Review

"What keeps us coming back to Oates Country is her uncanny gift of making the page a window, with something happening on the other side that we'd swear was like life itself." --The New York Times Book Review

"A major achievement that stands with Oates' finest studies of American life...the novel is a testament to the tenacious bonds of the family, the restorative power of love and capacity to endure and prevail." --The Chicago Tribune