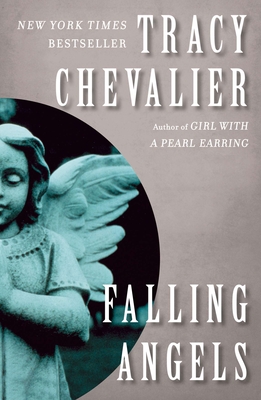 Falling Angels (Paperback)
Penguin Books, 9780452283206, 336pp.
Publication Date: September 24, 2002
Description
ANew York Times bestseller
From the author of the international bestsellerGirl With A Pearl Earring and At the Edge of the Orchard, Tracy Chevalier once again paints a distant age with a rich and provocative palette of characters.
Falling Angelsfollows the fortunes of two families in the emerging years of the twentieth century in England, while the Queen's death reverberates through a changing nation.Told through a variety of shifting perspectives wives and husbands, friends and lovers, masters and their servants, and a gravedigger's son Falling Angels is graced with the luminous imagery that distinguished Girl With a Pearl Earring, Falling Angels is another dazzling tour de force from this "master of voices" (The New York Times Book Review).
About the Author
"I was born and grew up in Washington, DC. After getting a BA in English from Oberlin College (Ohio), I moved to London, England in 1984. I intended to stay 6 months; I m still here."As a kid I d often said I wanted to be a writer because I loved books and wanted to be associated with them. I wrote the odd story in high school, but it was only in my twenties that I started writing real stories, at night and on weekends. Sometimes I wrote a story in a couple evenings; other times it took me a whole year to complete one."Once I took a night class in creative writing, and a story I d written for it was published in a London-based magazine called Fiction. I was thrilled, even though the magazine folded 4 months later.I worked as a reference book editor for several years until 1993 when I left my job and did a year-long MA in creative writing at the University of East Anglia in Norwich (England). My tutors were the English novelists Malcolm Bradbury and Rose Tremain. For the first time in my life I was expected to write every day, and I found I liked it. I also finally had an idea I considered big enough to fill a novel. I began The Virgin Blue during that year, and continued it once the course was over, juggling writing with freelance editing."An agent is essential to getting published. I found my agent Jonny Geller through dumb luck and good timing. A friend from the MA course had just signed on with him and I sent my manuscript of The Virgin Blue mentioning my friend s name. Jonny was just starting as an agent and needed me as much as I needed him. Since then he s become a highly respected agent in the UK and I ve gone along for the ride." Tracy Chevalier is the New York Times bestselling author of six previous novels, including Girl with a Pearl Earring, which has been translated into thirty-nine languages and made into an Oscar-nominated film. Her latest novel is The Last Runaway. Born and raised in Washington, D.C., she lives in London with her husband and son. "
Praise For Falling Angels…
"Entirely successful: distinct, inhabited, vivid, and real." —The Washington Post Book World



"Chevalier's ringing prose is a radiantly efficient as well-tended silver." —Entertainment Weekly



"Chevalier not only authentically details the era's social mores, tensions, and contradictions, she writes the book we want to read." —New York Daily News



"I read Falling Angels in an afternoon. The next day, I sat down and read it again." —Janice P. Nimura, The New York Times Book Review



"Brilliant...a rich story that is true to the era." —The Cleveland Plain Dealer



"Chevalier's second novel confirms her place in the literary firmament...deeply affecting.... This is a beautiful novel, not soon forgotten." —Minneapolis Star Tribune



"Part of the secret of Chevalier's success is her uncanny ability to bring a lost world to life.... Just as Vermeer's work helps to explain his world in Chevalier's earlier novel, so the symbolic art of the graveyard illuminates Victorian culture in Falling Angels." —The Baltimore Sun



"Accomplished and powerful..." —Booklist




 


Advertisement