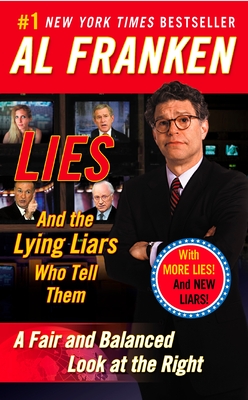 Lies (Paperback)
And the Lying Liars Who Tell Them: A Fair and Balanced Look at the Right
Plume, 9780452285217, 448pp.
Publication Date: July 27, 2004
* Individual store prices may vary.
Description
The #1 New York Times bestseller by Senator Al Franken, author of Giant of the Senate

Al Franken, one of our "savviest satirists" (People), has been studying the rhetoric of the Right. He has listened to their cries of "slander," "bias," and even "treason." He has examined the GOP's policies of squandering our surplus, ravaging the environment, and alienating the rest of the world. He's even watched Fox News. A lot.
And, in this fair and balanced report, Al bravely and candidly exposes them all for what they are: liars. Lying, lying liars. Al destroys the liberal media bias myth by doing what his targets seem incapable of: getting his facts straight. Using the Right's own words against them, he takes on the pundits, the politicians, and the issues, in the most talked about book of the year.
Timely, provocative, unfailingly honest, and always funny, Lies sticks it to the most right-wing administration in memory, and to the right-wing media hacks who do its bidding.
About the Author
U.S. Senator Al Franken grew up in St. Louis Park, Minnesota. Before running for the Senate, Al spent 37 years as an Emmy award-winning comedy writer; author of I'm Good Enough, I'm Smart Enough, and Doggone It, People Like Me!, Rush Limbaugh Is a Big Fat Idiot, Lies (and the Lying Liars Who Tell Them), and Giant of the Senate; and radio talk show host. He has taken part in seven USO tours, visiting our troops overseas in Germany, Bosnia, Kosovo, Uzbekistan, Iraq, Afghanistan, and Kuwait.

First elected to the Senate in 2008, and re-elected in 2014, he currently sits on the Health, Education, Labor, and Pensions (HELP) Committee; the Judiciary Committee; the Energy and Natural Resources Committee, and the Committee on Indian Affairs. He has been married to his wife, Franni, for 40 years.
Praise For Lies: And the Lying Liars Who Tell Them: A Fair and Balanced Look at the Right…
"Laugh-out-loud funny."—
The Washington Post


"Rings with the moral clarity of an angel's trumpet... Although Franken is a self-proclaimed liberal, his work differs in that it presents well-substantiated arguments and damning examples of false accusations that conservatives have effectively used against Democrats... sharp analysis and humor."—
Associated Press
"A typically unabashed blend of razor-witted denunciation and old-fashioned gumshoe detective work directed at right-wing crazies both in and out of government... [An] exquisitely irritating new book."—The Independent (London)
"[A] heady mixture of scathing humor and righteous indignation."—The Onion

"In the kicking, spitting spirit of current all-star political discourse, Al Franken gives as good as he gets."—Janet Maslin, The New York Times
Praise for Oh, the Things I Know!

"With a nod to Dr. Seuss and his popular tome for graduates of all ages, Franken offers his own advice guide, which covers pretty much anything anyone wants to understand about life… This laugh-aloud take on advice books—it is dedicated simply 'For Oprah'—is Stuart Smiley with an edge."—Ilene Cooper, Booklist

"Easy-to-follow guide to success and, failing that, happiness."—USA Today

Praise for The Truth (with jokes)

"Devastating... The Truth keeps its promise to be funny about extremely unfunny matters. It matches Lies in wit, and its subjects are tougher. The gags have bite. . . . And it is effectively leavened with bits of dialogue, many of them all too real."—The New York Times

"Subtle, laugh-or-cry-out-loud and ultimately devastating . . . The Truth (with jokes) is guaranteed to rile the right again with its forensic lasering of Republican skullduggery and media mendacity, laced with sharp humor. . . . [Franken] is the voice the American left has been waiting for."—The Guardian (London)