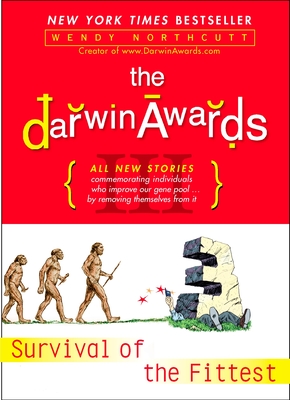 The Darwin Awards III: Survival of the Fittest (Paperback)
Survival of the Fittest
Plume Books, 9780452285729, 272pp.
Publication Date: September 28, 2004
Description
The hilarious New York Times bestselling phenomenon--more than 1.5 million copies sold
Honoring those who improve our gene pool by inadvertently removing themselves fromit,
The Darwin Awards III
includes more than one hundred brand new, hilariously macabre mishaps and misadventures.
From a sheriff who inadvertently shot himself twice, to the insurance defrauder who amputated his leg with a chainsaw; from a farmer who avoided bee stings by sealing his head in a plastic bag to the man crushed by the branch he just trimmed, The Darwin Awards III proves again that when it comes to stupidity, no species does it like we do.
Featuring scientific and safety discussions and filled with illustrations depicting inspiring examples of evolution in action, The Darwin Awards III shows once more how uncommon common sense still is.
About the Author
A graduate of UC Berkeley with a degree in molecular biology, Wendy Northcutt began collecting the stories that make up the Darwin Awards in 1993. Her award-winning Web site www.DarwinAwards.com is one of the most popular humor pages on the Web. The Darwin Awardshave been profiled in USA Today, The Wall Street Journal, Entertainment Weekly, and on NPR's All Things Considered. Wendy is the author of the international bestsellers The Darwin Awards: Evolution in Action, The Darwin Awards 2: Unnatural Selection, The Darwin Awards 3: Survival of the Fittest, The Darwin Awards 4: Intelligent Design, The Darwin Awards: Next Evolution, and The Darwin Awards: Countdown to Extinction.
Advertisement