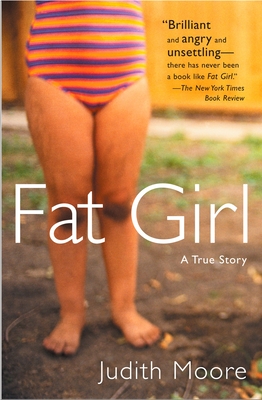 Fat Girl (Paperback)
A True Story
Plume, 9780452285859, 208pp.
Publication Date: February 28, 2006
* Individual store prices may vary.
Description
A Top Ten Nonfiction Book of 2005 (Entertainment Weekly)

For any woman who has ever had a love/hate relationship with food and with how she looks; for anyone who has knowingly or unconsciously used food to try to fill the hole in his heart or soothe the craggy edges of his psyche, Fat Girl is a brilliantly rendered, angst-filled coming-of-age story of gain and loss. From the lush descriptions of food that call to mind the writings of M.F.K. Fisher at her finest, to the heartbreaking accounts of Moore's deep longing for family and a sense of belonging and love, Fat Girl stuns and shocks, saddens and tickles.

"Searingly honest without affectation… Moore emerged from her hellish upbringing as a kind of softer Diane Arbus, wielding pen instead of camera."—The Seattle Times
 
"Frank, often funny—intelligent and entertaining."—People (starred review)
 
"God, I love this book. It is wise, funny, painful, revealing, and profoundly honest."—Anne Lamott
 
"Judith Moore grabs the reader by the collar, and shakes up our notion of life in the fat lane."—David Sedaris
 
"Stark… lyrical, and often funny, Judith Moore ambushes you on the very first page, and in short order has lifted you up and broken your heart."—Newsweek
 
"A slap-in-the-face of a book—courageous, heartbreaking, fascinating, and darkly funny."—Augusten Burroughs
About the Author
JUDITH MOORE, recipient of two National Endowments for the Arts and a Guggenheim fellowship, is the author of the critically acclaimed memoir Never Eat Your Heart Out, a New York Times Notable Book of the Year. Moore is the books editor and senior editor for the San Diego Reader and lives in Berkeley, California.
Praise For Fat Girl: A True Story…
"Moore's unflinching memoir sets a new standard for literature about women and their bodies."—Entertainment Weekly (Editor's Choice)
 
"Brilliant and angry and unsettling—there has never been a book like Fat Girl."—The New York Times Book Review
 
"A magnificent achievement."—Andrew Vachss
 
"Riveting."—O, The Oprah Magazine
 
"Heartbreaking… hard to put down, no matter what the scale says."—Marie Claire
 
"In its abrading wit and honesty, [Fat Girl] deserves to be widely read… by anyone who's ever, for whatever sensible-silly reason, felt like hiding."—San Francisco Chronicle
 
"Bitterly eloquent."—New York magazine
 
"Moore reveals herself not as just a wounded soul in need of succor but also a world-class sensualist."—The Washington Post Book World
 
"[Fat Girl] documents, with a child's wretched matter-of-factness, the hatred that fatness provokes in others."—The New Yorker
 
"What's most impressive about this book is its terrifying evocation of how food can bring nearly convulsive pleasure to the body… [Moore writes] in a manner both detached and unsentimental, mordantly amusing and unflinching."—Elle
 
"Searingly honest without affectation… Moore emerged from her hellish upbringing as a kind of softer Diane Arbus, wielding pen instead of camera."—The Seattle Times
 
"Frank, often funny—intelligent and entertaining."—People (starred review)
 
"God, I love this book. It is wise, funny, painful, revealing, and profoundly honest."—Anne Lamott
 
"Judith Moore grabs the reader by the collar, and shakes up our notion of life in the fat lane."—David Sedaris
 
"Stark… lyrical, and often funny, Judith Moore ambushes you on the very first page, and in short order has lifted you up and broken your heart."—Newsweek
 
"A slap-in-the-face of a book—courageous, heartbreaking, fascinating, and darkly funny."—Augusten Burroughs
or
Not Currently Available for Direct Purchase